How to Make Beautiful Chocolate Meringue Roses
Christine O
These edible roses are practically a work of art.

The sweetness of the meringue is balanced perfectly by the dark chocolate.

Not only are they decadent, they're also delicious.

We're making beautiful Chocolate Meringue Roses!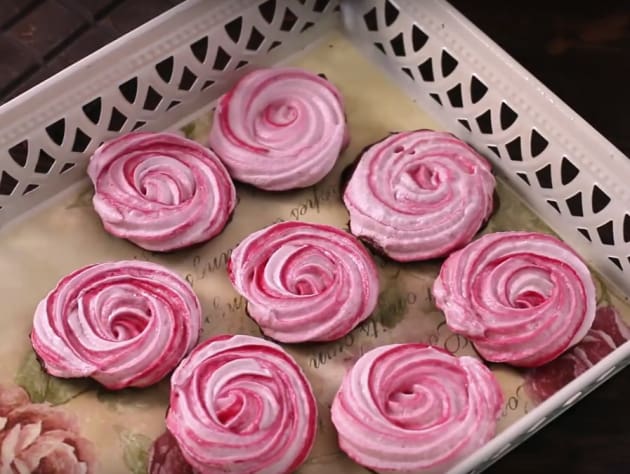 Preheat your oven to 200F.

Whip 2 egg whites with a pinch salt until foamy.

Gradually add 1/2 cup sugar and whip until firm peaks form.

Add 1/2 teaspoon vanilla extract and red food coloring until you're happy with the color. Mix to combine.

Fit a piping bag with 1M (½ inch- 1cm) large star tip. Make 4 lines of red food coloring on the inside of the piping bag.

Transfer the meringue into the piping bag.

On a baking sheet lined with parchment paper make 2 inch roses starting from the center and making circles around.

Check out the video below for all the details.

Bake for 90 minutes.

Turn off the oven and leave the meringues in the oven until the oven is completely cooled, about 2 to 3 hours more or even overnight.

Melt 4 ounces dark chocolate over bain-marie (double boiler). You can also melt in a microwave, stopping every 30 seconds to stir.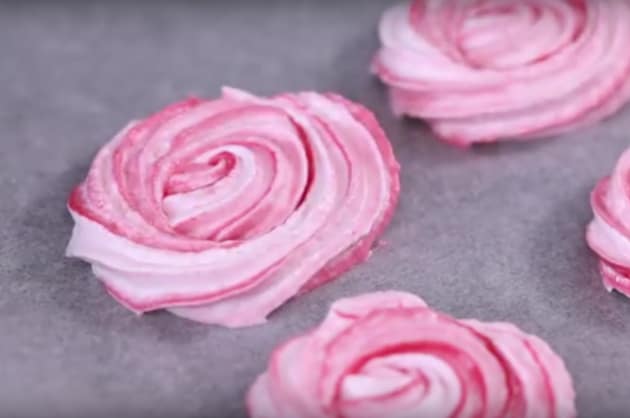 Dip bottoms in chocolate and place on parchment paper to set.

Store in an airtight container at room temperature.

Then serve, eat, and enjoy!