How to Make Amazing Triple Malt Chocolate Cake
Christine O
We all love chocolate cake but this one is over the top.

It's got three layers of malt and chocolate.

Let's make an Amazing Triple Malt Chocolate Cake!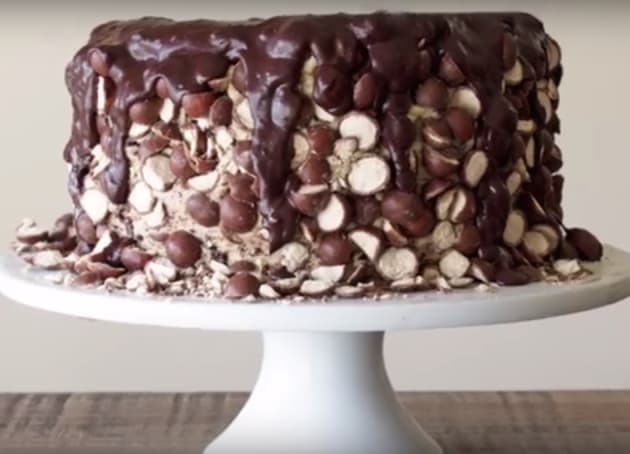 To make the cake, preheat your oven to 350 degrees.

Butter three 9-inch cake rounds. Dust with flour (or cocoa powder) and tap out the excess.

Mix together 3 cups flour, 3 cups sugar, 1 and 1/2 cups unsweetened cocoa powder, 1 tablespoon baking soda,1 and 1/2 teaspoons baking powder, 1 cup malted milk powder, and 1 and 1/2 teaspoons salt in a stand mixer using a low speed until combined.

Add 4 eggs, 1 and 1/2 cups buttermilk, 1 and 1/2 cups warm water, 1/2 cup vegetable oil, and 2 teaspoons vanilla extract.

Beat on a medium speed until smooth. This should take just a couple of minutes.

Divide batter among the three pans. Bake for 30 to 35 minutes until the cake meets the toothpick test (stick a toothpick in and it comes out clean).

Cool on wire racks for 15 minutes and then turn out the cakes onto the racks and allow to cool completely.

While the cakes are cooling, make your frosting.

In a medium-sized mixing bowl, cream together the 1 cup softened butter and 8 ounces softened cream cheese with a hand mixer (or you can use a stand mixer).

Add in 1 and 1/2 cups malted milk powder and 1 tablespoon vanilla extract. Mix until combined.

Add in approximately 6 cups powdered sugar, 1 cup at a time until desired consistency is achieved. The frosting should be spreadable, but not runny. It needs to be able to hold to the cake.

Assemble the cake by frosting in between the 3 layers and the sides of the cake.

Place 1 cup crushed malt balls on the outside edges of the cake. Just take a handful and gently smoosh it into the frosting.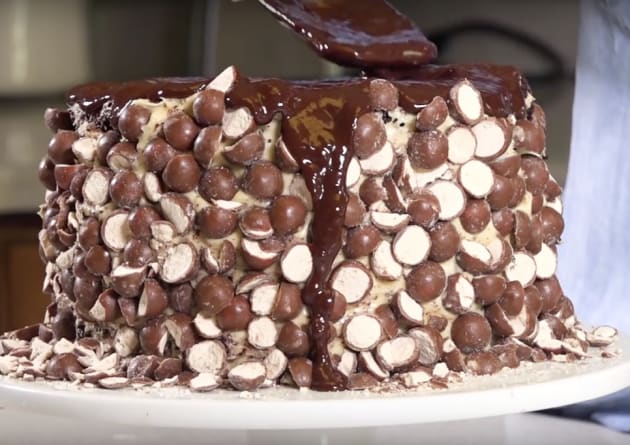 Make chocolate ganache:

In a small saucepan, bring the 1/2 cup heavy cream to a boil, stirring constantly.

Once it boils, remove from heat and add in 4 ounces semi-sweet chocolate chips, stirring until smooth.

Pour over the cake, letting it drip down the sides. Cool to harden.

Then serve, eat, and enjoy this amazing cake!