How to Bake the Ultimate Garlic Bread, Stuffed With Chicken and Cheese
Christine O
What's could be better than savory garlic bread?
Try adding some gooey cheese and delicious chicken.
We're going to do just that and it's easier than you think.
Let's Bake Garlic Bread, Stuffed With Chicken and Cheese!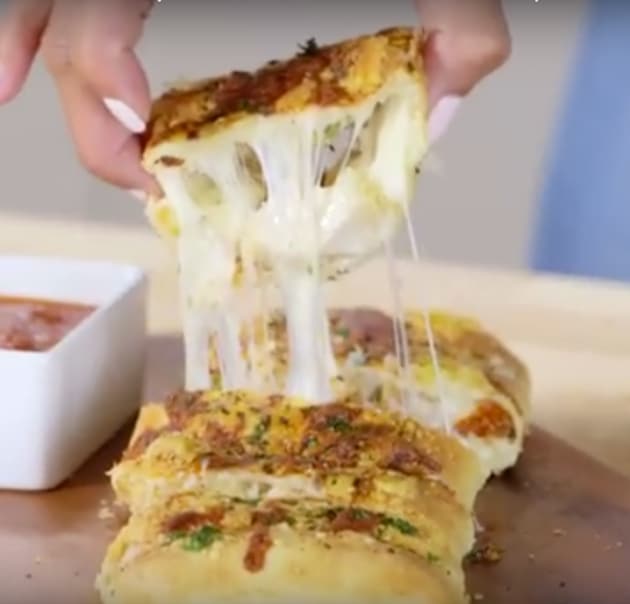 Preheat  your oven to 400ºF.

Spray a baking sheet with nonstick cooking spray.

In a shallow bowl, combine 1 cup panko breadcrumbs, 1/2 teaspoon salt, 1/4 cup parmesan cheese, and 1 tablespoon parsley. Stir to combine.

In another bowl, combine 1/2 cup softened butter, 2 tablespoons lemon juice, and 5 cloves chopped garlic and microwave for 45 seconds, or until the butter has melted and the garlic becomes fragrant.

Reserve 1/4 cup of the garlic butter mixture for topping.

Place 2 chicken breasts in the butter mixture, coating them completely. Make sure to get a few pieces of garlic on the chicken. Then place each breast in breadcrumb mixture and gently press the breadcrumbs into the chicken breast to make sure each is well-coated.

Place chicken on baking sheet and drizzle with olive oil. Bake for 22 to 25 minutes and the internal temperature of the chicken reads 165ºF.

Remove chicken from the oven and allow to cool. Once cool, cut chicken into 1/4-inch cubes and set aside.

To make the dough, raise the temperature on the oven to 500ºF and prepare the dough.

In a bowl, whisk together 1 cup flour, 1/2 tablespoon baking powder, 1/4  teaspoon salt, and 1/2 teaspoon sugar until combined.

Add 1/2 cup whole milk and 2 tablespoons olive oil and stir with a wooden spoon until a dough forms. If the dough is too sticky, add a bit more flour until it is easy to handle.

Then divide the dough in half and roll out each section on a floured surface into two 11-by-6-inch rectangles. The dough should be about 1/8 inch thick.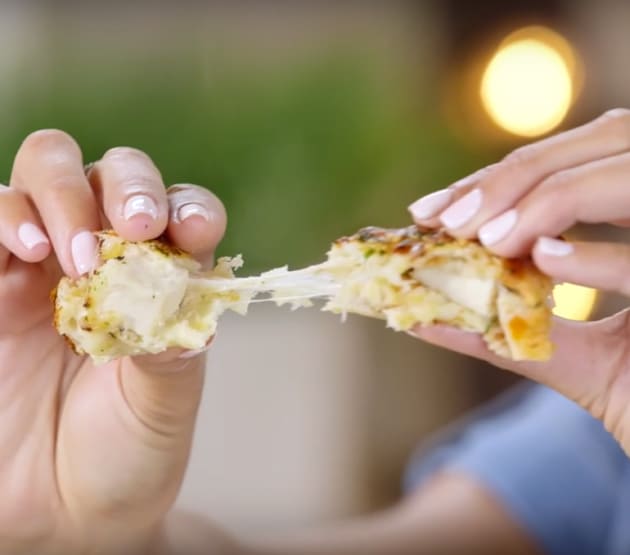 Check out the video below for all of the tasty details.

Sprinkle each dough with about 3/4 cup mozzarella and half of the chicken cubes.

Roll the dough into a log, making sure to pinch along the seam and ends to secure. Place logs onto a baking sheet lined with parchment paper and top each with reserved garlic butter, remaining mozzarella cheese, parmesan, and parsley.

Bake for 14 to 16 minutes, or until the crust is golden brown.

Serve with marinara sauce eat and enjoy!