Instant Pot 7-in-1 Multi-Functional Pressure Cooker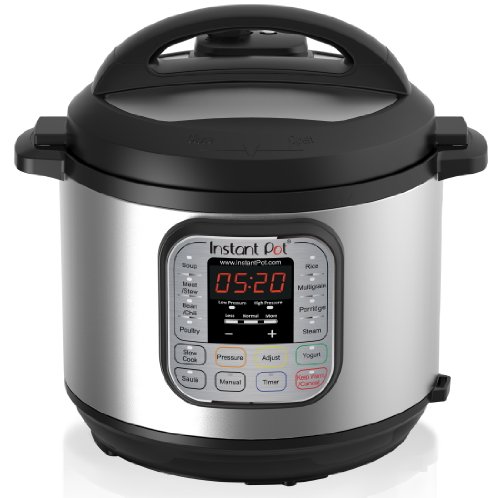 List Price:

$99.95

Your Price:

$79.00

You Save:

$20.95 (21%)
Buy Now

Warranty:

1 year manufacturer warranty
Customer Reviews:
Product Description
Save time and money with the Instant Pot 7-in-1 Multifunctional Pressure Cooker. Combining the functions of a pressure cooker, slow cooker, rice cooker, steamer, saute pan, warmer, and yogurt maker, this tool will help keep your kitchen less cluttered and making preparing dinner a breeze.
It features a large program screen with easy to use buttons, locking mechanisms for safe cooking, and an LCD countdown clock. The stainless steel pot insert is easy to clean, and it also comes with a stainless steam rack with long handles for easy removal.
Use the pre-programmed cooking settings for items like rice, beans, chicken, stews, and more, or use the manual setting and choose the time you need. Once the cook time is over, there's no worry about your food burning if you can't get it right away - the Instant Pot will simply switch to Keep Warm mode, keeping your food ready until you are.
The Instant Pot also comes with a comprehensive instruction manual as well as a recipe book so you can get dinner cooking from day one. Start with soups and beans and work your way up to roast meats, casserole-style dishes, and even dessert!
The Instant Pot 7-in-1 Multi-Functional Pressure Cooker will earn its spot on your kitchen counter day in and day out.
Tags:

Related Products:

MPN:

IP-DUO60

Model:

IP-DUO60

Product ID:

IP-DUO60

GTIN-13 / EAN Code:

0802563983895

Weight:

16.1 lb

Depth:

14.9 in

Width:

13.0 in

Height:

12.9 in

Color:

Stainless steel and Black

Brand:

Instant Pot

Manufacturer:

Double Insight Inc. DBA
Show Comments