Casabella Smart Scrub Dish Brush Review
Amber Bracegirdle | Bluebonnet Baker
The Casabella smart scrub dish brush is indeed, smart. With interlocking bristles for 8 times as many scrubbing edges, and removable, refillable bristles, this is one heck of a dishwashing tool.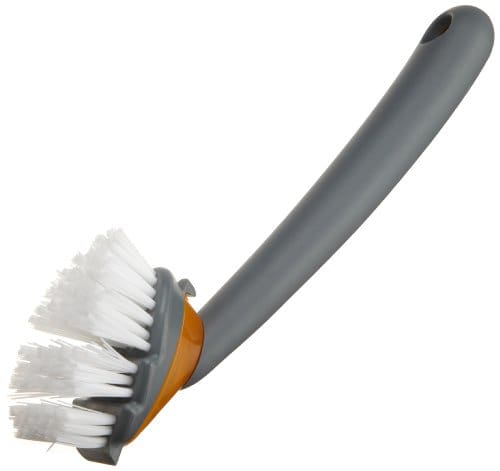 The Casabella Smart Scrub Dish Brush is probably the most heavy duty dish brush we've ever owned. Just holding it in your hand, it's a much more solid piece of dishwashing equipment than you find in the dollar bin at Target. It has weight to it, and with it, more scrubbing power. 
The Smart Scrub dish brush is designed with cross-action bristles, almost identical to my favorite tooth brush. If it works to get my teeth cleaner, it should definitely work to get my dishes cleaner, right? Well, I can tell you it's true. One of my favorite foods is scrambled eggs. But cleaning scrambled egg-coated pans is one of my most hated kitchen chores. 
This dish brush cleaned the pan with hardly any elbow grease in seconds. Color me impressed. Even more impressive? The bristles can be removed, and replaced. Stop throwing out the entire brush when it gets unsanitary, and just replace the bristles. Now that's smart, and better for the environment. 
Pros:
Replaceable bristles means you only buy one brush
Interlocking bristles makes cleaning super easy without lots of elbow grease
Heavy duty construction
Dish scraper built into the brush, no need for a separate tool
Cons:
No suction cup to stand the brush up, needs separate storage
Tags: Casabella, Cleaning, Household, Product Reviews