Pioneer Woman Review: Dear Pioneer Woman...
Emily Caruso | Jelly Toast
Pioneer Woman aired a new episode this week. We rundown the latest recipes from Ree in this review.
If you're a follower of The Pioneer Woman, you're familiar with her popular advice column "Dear Pioneer Woman."
As a twist on her traditional column, Ree has dedicated an entire episode to answering fan questions that are all about food (and a few other things, as well).
Ree is responding to the call for quick and easy desserts. Her answer is a Quick and Easy Apple Tart. She starts by coring and slicing apples and mixing the pretty slices with brown sugar and lemon juice. She takes a short cut by using a box of puffed pastry (which is great, even for a savory tart such as this goat cheese asparagus tart recipe).
She doesn't even worry about rolling it out or scoring the edges. Instead, she simply cuts the pastry in half, creating two narrow tarts then layers on the apple slices. After baking the tarts, she drizzles on jarred caramel sauce and sprinkles them with chopped pecans. This is truly a quick and easy dessert, but it looks like a million bucks. Beautiful and perfect for Fall!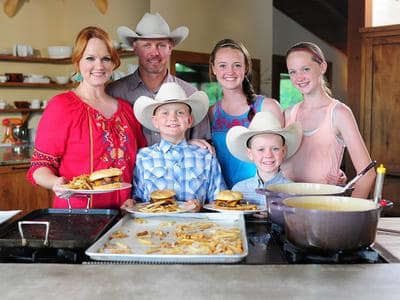 Besides recipe ideas, Ree is also sharing her favorite quick tips from around the kitchen and house. First, Ree shares her love for using bandanas for cloth napkins. The cloth napkin revival is fantastic for the environment, plus it adds a bit of elegance to the everyday. The bandanas that Ree uses certainly go along with her colorful, country style.

Next, Ree is offering up a super speedy 10 minute meal: Shrimp Stir Fry. Shrimp recipes and stir fry recipes are incredibly quick cooking, and Ree starts hers by sautéing a pound of shrimp then she adds in some garlic, zucchini, sweet corn, cherry tomatoes and basil. Not only is this a quick meal, it's a great way to use your bumper summer crops of zucchini, sweet corn and tomatoes. Ree tops off the entire skillet with a generous cup of parmesan shavings.

Do you find that grocery shopping is eating up too much of your time? Well, Ree has a tip for super speedy shopping: split the shopping list with your two teenage daughters. A divide and conquer mentality. Not a bad idea, but not so helpful when your kids are preschoolers. At least it gives me something to look forward to in ten years.

Living on a cattle ranch, Ree gets swamped with questions about beef recipes. Ree's answer to the question on how to mix up your steak night is her decadent Big Steak Salad. Ree starts by marinating some ribeye steaks in an Asian inspired marinade made up of oil, red wine vinegar, balsamic vinegar, Worcestershire sauce, soy sauce, lime juice, sugar, garlic, ginger, chili oil, salt and pepper. That is quite a list of ingredients, but this mixture doubles as the marinade for the steaks and the dressing for the salad.

Ree also makes homemade fried onion rings to top off her steak salad. For the actual salad portion, she uses a bunch of pre mixed and washed greens, cherry tomatoes, crumbled blue cheese and tops it with the reserved dressing. Ree adds the sliced grilled steak and a mountain of her fried onion straws and calls this salad complete. If there is any salad that cowboys would crave, it would be this salad.

It's fun when Ree talks about her blog on her show because it brings to life her online presence. Next week, Ree is celebrating her daughter's 16th birthday with an episode full of pasta recipes. Get ready for some serious carb loading.

Thanks for reading - and remember to visit our ever-evolving section of Pioneer Woman recipes!
 

Tags: The Pioneer Woman, Food Network, Cooking Shows