Chopped Review: Cleaver Fever
Stephie Predmore | Stephie Cooks
Chopped featured bacon popcorn and mashed potato candy among its ingredients this week. Read on for our latest review.
This week on Chopped, the chefs were asked to work with ingredients ranging from bacon popcorn to lassi to mashed potato candy.
While some of the contestant stood out for their creativity, others stood out more for their inability to put their money - or the $10,000 prize - where their mouth was.
The Contestants:
Sevan, Chef and restaurateur from California
Nicole, Sous chef from New York
Raquel, Executive chef from California
Owen, Executive chef from Brooklyn, New York

This Week's Judges: Alex Guarnaschelli, Scott Conant, and Elizabeth Karm.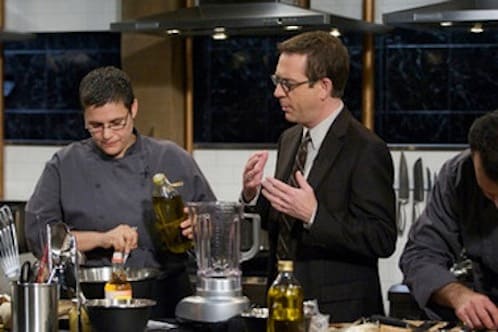 The Appetizer Round: The chefs had 20 minutes to create an appetizer recipe using tuna belly, key limes, black radishes, and bacon popcorn.

While the contestants generally did well with these ingredients, each chef had some errors in their dish. Sevan's Tuna Tower with Radish Popcorn Puree was presented beautifully, but could have had cleaner flavors.

Owen had a clever idea in creating a Chilled Radish and Key Lime Broth, but his use of the radishes ended up being overly sulfuric – not exactly an odor you want coming off of your appetizer.

Nicole succeeded with her Tuna Belly Ceviche, but failed with her Radish Chips. Raquel, however, made the biggest error in searing the tuna belly, a cut of tuna that should not have been cooked. This clear lack of attention toward such a prime ingredient made her a no-brainer to send home.

The Dinner Round: The contestants had 30 minutes to create an entrée containing leg of lamb, toban djan, spinach and lassi. Unlike some previous baskets on this show, this one was almost a gift, as this combination of ingredients really lends itself well to middle-eastern dishes – a fact that made Sevan certain he would blow his competition out of the water.

Nicole and Owen presented dishes that were far from perfect in this round; Nicole did not have enough time to properly braise her leg of lamb, and Owen was unable to cook his lamb pieces evenly. Yet, ironically enough, it was Sevan that could not live up to his own inflated self-image and made the most severe mistake in this round by creating an aioli that completely overpowered two of the basket ingredients.

Personally, I was not sorry to see him – or his ego – leave.

The Dessert Round: The two remaining contestants had 30 minutes to create a dessert recipe using rosewater syrup, almond butter, rambutans, and mashed potato candy.

Owen and Nicole's performances in this round made this an extremely close competition. The judges loved Owen's Almond Butter Cake, even if he did not get one of the basket ingredients on the plate, while all of the elements of Nicole's ambitious Almond Cookie Tower were delicious on their own, if slightly too sweet together.

Nicole's hard work in this competition – and outside of it, as she worked to make a better life for herself – paid off, though, and won her the well-deserved title of Chopped Champion.

Did you agree with that choice? Remember to keep visiting Food Fanatic for all the latest Food Network recipes!

Tags: Chopped, Cooking Shows, Food Network