Chopped Review: Better Saffron Than Sorry
Stephie Predmore | Stephie Cooks
Chopped tossed some interesting curveballs at contestants this week. Read on for our rundown of the Food Network smash.
This week on Chopped, the contestants were thrown some interesting curveballs, including a deaf fellow contestant and some, shall we say, ballsy basket ingredients.
The Contestants:
Christian, chef and trainer
Martha, executive chef
David, executive chef and food truck owner
Kurt, caterer
This Week's Judges: Maneet Chauhan, Marcus Samuelson, and a special guest judge.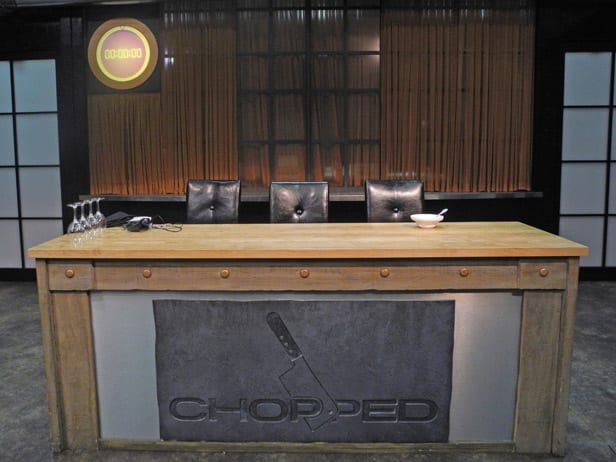 The Appetizer Round: The chefs had 20 minutes to create an appetizer recipe using mussels, blue cheese-stuffed olives, saffron and añejo tequila.

Marta presented a beautifully plated Mussel Salad with Saffron Sauce, while Kurt's use of the saffron in his Mussels with Tequila and Saffron Sauce impressed the judges. David's Mussel Saute with Saffron Tequila Broth confused the judges, but it was Christian's mediocre Stuffed Mussels with Saffron Brown Butter that did the least to impress the judges and got him sent home.

The Dinner Round: The contestants had 30 minutes to create an entrée containing amaranth leaves, blackberries, lamb fries and curd chile – a challenging basket, indeed. This would not be the basket I would have wanted if I were ever on the show.

David served a Lamb Fry Cutlet with Blackberry "Risotto" that the judges called a "masterful dish". The flavors in Martha's Pan-Seared Lamb Fries with Asparagus and Amaranth Leaves were spot-on and paired with a delicious sauce.

For Kurt, however, his lack of knowledge regarding the lamb fries was his downfall; while he had beautiful flavors in his Braised Lamb Fries with Blackberry Sauce, he did not know how to properly clean the lamb fries, sending him to the chopping block.

The Dessert Round: The two remaining contestants had 30 minutes to create a dessert recipe using argan oil, apricots, fresh pasta sheets and cheese spread. I don't know who was getting a laugh out of creating this basket, but they must have a weird sense of humor.

David really managed to redeem these bizarre ingredients in his Dessert "Ravioli" with Apricot Gel, and impressed the judges with his culinary point of view. It was Martha's overall meal, however, in conjunction with her Buttermilk Cake with Citrus Salad that won her the $10,000 prize and the title of Chopped Champion, proof that sometimes returning to one's roots and not over-complicating things can take you far.

NOTE: Remember to continually visit Food Fanatic for our updated section of Food Network recipes!

Tags: Chopped, Cooking Shows, Food Network
Sign Up for Weekly Personalized Recipes. FREE!