Chopped All-Stars Review: Round 4!
Stephie Predmore | Stephie Cooks
Chopped All-Stars featured celebrity chefs this week. Read on for a full review!
In the last round of Chopped All-Stars, four celebrities competed to see who would go on to join Sunny Anderson, Gavin Kaysen, and Scott Conant for a chance to win $50,000 for their favorite charity.

The Contestants:
Joey Fatone – Former *NSYNC star, Dancing with the Stars contestant, television host and, former competitor on Rachael vs Guy: Celebrity Cook-Off.
Johnny Weir – Multiple US and Olympic champion figure skater and former competitor on Rachael vs Guy: Celebrity Cook-Off.
Judy Gold – Off-Broadway comedienne, GLAAD Media Award winner, and Drama Desk Award nominee.
Laila Ali – World boxing champion, author, television host and previous contestant on Dancing with the Stars.
This Week's Judges: Geoffrey Zakarian; Marcus Samuelson; Maneet Chauhan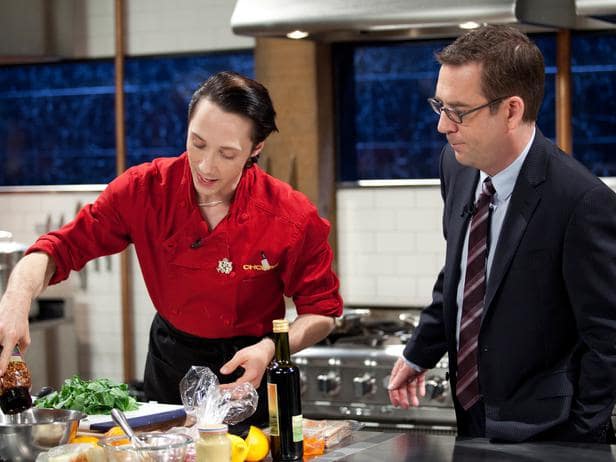 The Appetizer Round: The chefs had 20 minutes to create an appetizer using vanilla cupcakes, chicken tenders, avocados, and kochijang. While the dishes created in this round were admittedly quite similar to each other, this was a good "warm-up" round for these amateur cooks.

Johnny focused on making his presentation beautiful with his Cupcake-Laced Chicken Tenders with Dijon Guacamole. Laila's Spicy Vanilla Cupcake Crusted Chicken Fingers had the best use of the cupcakes, in spite of being burnt, while Joey impressed the judges by approaching the avocado differently from this competition in his Sweet and Spicy Chicken with Avocado and Cupcake Salad.

Judy, however, would have done well to channel some of Johnny's focus on presentation; while her Grilled Chicken Tenders with Cupcake Breading had good flavors, the judges were understandably underwhelmed with her downright unappealing presentation, and had no choice but to chop her.

The Dinner Round: The contestants had 30 minutes to create an entrée containing skirt steak, matzo crackers, sweet orange gelatin cups ("Inside that gelatin cup is the soul of the devil." - Johnny), and collard greens.

Laila once again overcooked her meat with her Grilled Skirt Steak with Sautéed Greens and Matzo Mashed Potatoes, but the steak was so well seasoned and her potatoes so creative, the judges were willing to overlook it. Joey served perfectly cooked, though under-seasoned, Red Wine Marinated Skirt Steak. Unfortunately for Johnny, the judges were not as impressed with his small portions of Skirt Steak with Orange Infused Collard green Salad as he had hoped, and he was sent packing.

The Dessert Round: The two remaining contestants had 30 minutes to create a dessert recipe using circus peanuts, passion fruit puree, graham cracker cereal, and curry powder. The baskets had been relatively tame up until this point, but Laila and Joey took this strange combination of ingredients in stride and both put up a good fight.

Joey attempted Passion Fruit Custard, which didn't quite set up as it should have but did present some nice flavors. Laila, on the other hand, surprised the judges with the finesse of her Orange Passion Fruit Ice cream with Curry Graham Cracker Crumble, giving her the edge she needed to get to the finale round.

So now Laila goes on to join three professional chefs in competition for $50,000 – a challenge that should prove interesting for her, especially after seeing the way the professional chefs competed in the previous all-star rounds. I think if any of these celebrities could hold their own against professional chefs, it would be Laila, and certainly hope she rises to the occasion in next week's episode.

NOTE: Bookmark our site now for many more Food Network recipes!

Tags: Chopped, Cooking Shows, Food Network
Sign Up for Weekly Personalized Recipes. FREE!