Top Chef Seattle: And the Winner Is...
Emily Caruso | Jelly Toast
Top Chef Seattle crowned its champion this week. Read on for a detailed analysis.
And then there were two.
We're down to the finale and it's Kristen and Brooke to battle it out for the title of Top Chef. I don't know if I've ever watched a finale of Top Chef and not had someone I was obviously pulling for, but this season, I just can't choose between these two.
Their creativity in the kitchen is inspiring; plus, I'm thrilled to finally have another woman be named Top Chef. Ultimately, I am hoping for a good match up in which both chefs do their best. It makes my stomach twist into a knot when a chef falls on their face during the finale.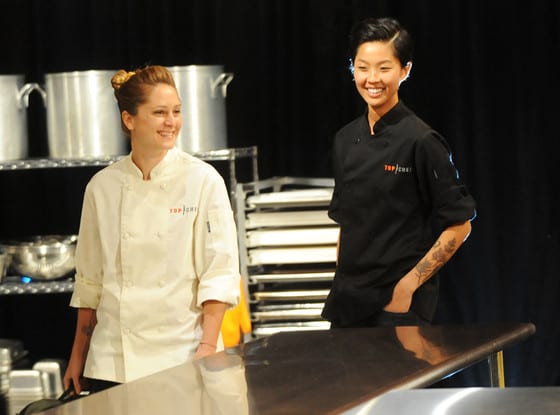 The Finalists:
From the very beginning, there was something about Kristen that made her stand out from the crowd. An air of confidence - dare I say subtle arrogance - that can't be forced. She's both artistic and classic in her style of cooking and she just screams Top Chef material. Kristen has recently battled her way back into the competition through an impressive winning streak in Last Chance Kitchen to earn herself a spot in the finale.

Brooke, on the other hand, has been this quiet powerhouse in the kitchen. She delivers intense flavor and creativity time and time again. In fact, she's so consistent that she has won the most elimination challenges of any other contestant. She's known for her unusual and innovative pairings, like lamb stuffed squid and frogs legs and mussels surf and turf. It will be exciting to see what she brings out tonight.

For the first time, the Top Chef finale is taking place in front of a live audience. The chefs will be cooking for 68 people, including the judges and previous nine winners. It's like Iron Chef on steroids. This is bound to make things interesting, not to mention nerve-racking.

The Challenge:
The episode starts with the chefs entering into this giant, arena sized studio filled to the brim with judges, family members and previous Top Chef contestants and winners. Brooke looks visibly nervous after seeing the venue.

The Chefs have previously chosen their sous chefs, who are all chef coated up and ready to cook.

On Kristen's team are Sheldon, Lizzie and Josh. Not too bad considering they were all the most recently eliminated contestants. Kristen seems pleased that she has a hard working team and won't have to deal with any big egos. I couldn't agree more.

Brooke's team consists of CJ, Stefan and Kuniko. Not a bad line up, but a few of her team mates didn't make it too far in the competition, so I hope this doesn't place her at a disadvantage. She seems to think it's a great mix. I do wonder, though, how Stefan feels about battling against Kristen. They have always had a very flirty friendship and I think Stefan does carry a bit of a torch for her.

Both chefs will prepare their best five dishes and each course will be judged head to head. The first chef to have three winning dishes will claim the title of Top Chef.

The Dishes:
First Dish - Salads

Kristen: Chicken Liver Mousse with Frisee, Mustard, Prune, Hazlenuts and Pumpernickle.

Judges Comments: Emeril loved the mousse and Kristen's flavors and while Gail was complimentary of the mousse, she was confused about the greens covering the entire thing.

Brooke: Crispy Pig Ear and Chicory Salad, Six- Minute Egg, Apricot Jam & Candied Kumquats.

Judges Comments: Overall the judges loved her dish, but several of the pigs ears were burnt. The finger is pointed to CJ a bit on those burnt pigs ears, but Brooke takes all the blame. It's those little mistakes that will keep you from the win. Yikes.

Winner: Kristen sweeps the judges votes for the first dish.

Second Dish - Scallops

Kristen: Citrus & Lavender Cured Scallop with Bitter Orange, Meyer Lemon & Apple.

Judges Comments: The judges love the beautiful, light way she handled the scallop and feel this is a perfect representation of her style and skill. The dish is absolutely lovely to look at and with all the bright, fresh components, I'm sure it tastes even better than it looks.

Brooke: Seared Scallop with Salt Cod Puree, Crispy Speck, Black Currant and Mustard Seed Vinaigrette.

Judges Comments: The chefs love the combination of flavors that Brooke has played with, particularly the salt cod, and feel her scallop is cooked perfectly. The sear on the scallop alone was something to behold. Gorgeous.

Winner: Brooke eeks out the win over Kristen when Hugh breaks the 2 to 2 tie.

Third Dish - Chefs choice

Kristen: Celery Root Puree with Bone Marrow, Mushrooms, Bitter Greens & Radishes

Judges Comments: Emeril loves the earthy tones in Kristen's dish, but Tom seems uncertain. Padma wishes the dish was hot and makes sure to point out the fact that it isn't. While it's harsh, it sounds like the temperature is a problem. 

Brooke: Vadouvan Fried Chicken with Sumac Yogurt-Tahini & Pickled Kohlrabi Fattoush

Judges Comments: The judges are a little thrown with her chicken wing; more with the choice to make it rather than the flavor. Plus, a few seem to be struggling with the messiness of the dish, although I find it amusing watching Gail and Padma lick their fingers while Tom is being kind of a baby about the whole thing. Emeril loves it. Atta boy, Emeril!

Winner: Kristen

The judges feel at this point in the competition, Kristen's dish was more interesting and I have to say that I agree. Don't get me wrong. I love amazing BBQ chicken wings and I find it intriguing when a chef will choose to cook an elevated version of what could be considered a "low brow" dish. However, I feel like Brooke didn't do that here, which seems uncharacteristic of her. Her chicken wing appeared pretty basic, and the Fattoush was a bit confusing.

With a few dishes under their belts, the chefs are beginning to show what they're made of. With Kristen's second win, Brooke is visibly shaken, but not defeated. Kristen seems to be struggling a bit with the amount of plates that need to be put out, commenting that on a normal night, she will only cook for 10 people. This finale is quite different.

Fourth Dish - Red Snapper

Brooke: Braised Pork Cheek & Crispy Red Snapper with Collard Green Slaw & Sorrel Puree.

Judges Comments: The judges and previous contestants commend her on her layers of flavors and textures.

Kristen: Red Snapper with Leeks, Little Gem Lettuce, Tarragon, Uni & Shellfish Nage

Judges Comments: Overall, the judges like her flavors and pairings. Gail loves how harmonious all of the components are, but is a bit thrown by the stringiness of her leeks.

The judging of this dish could determine the entire outcome. If Kristen wins this dish, she will be crowned with the title of Top Chef. If Brooke wins, the chefs will be tied and will battle it out over the last dish of the night: dessert.

In the end, it doesn't come down to dessert. Kristen's snapper says it all and earns her a clean sweep vote from the Judges.

Kristen Kish earns the title of Top Chef. The tenth chef and only second woman to ever earn the title.

While part of me is sad about Brooke not winning, an equal part of me is thrilled to have Kristen earn it. She is truly a dynamic and exciting chef. Plus, I love the idea of her using some of her winnings to travel back to her home country of Korea.  I wish both chefs the best of luck to them in the future and thank them and all the contestants for a truly enjoyable season of Top Chef.

Congratulations, Kristen!
 

Tags: Cooking Shows, Top Chef