These tasty pinwheels are always popular at luncheons, parties, and as holiday appetizers.

Now, you don't have to order them from a store, you can make them yourself, right down to homemade tortillas!

We're making Tortilla Pinwheels.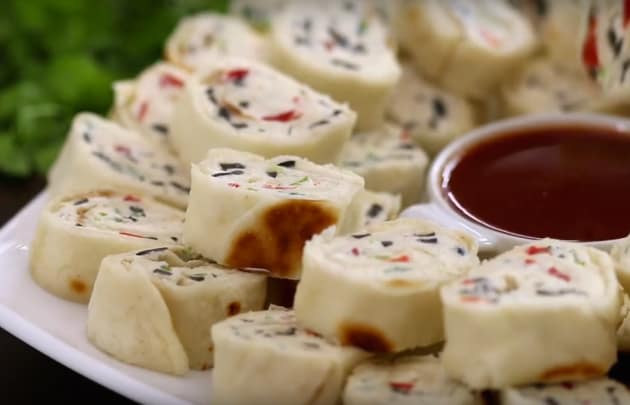 Prepare the tortillas:

In a medium bowl, mix 3 cups flour with 1 teaspoon salt and 1 teaspoon baking powder.

Add 1/3 cup oil and 3/4 cup warm water to the flour mixture. Mix everything together using your hands, knead until smooth and pulls away from the sides of the bowl.

Cut into 10 to 12 equal pieces.

With a rolling pin, roll out each one to a circle about 9 inches in diameter and 3/4 inch thick. They need to be really thin, almost transparent.

Preheat a large non-stick pan over medium-high heat. You don't need to add any oil or butter.

Cook the tortilla on both sides until the dough get brown spots all over the tortilla, that will only take few seconds. You must be very careful and work rapidly as they cook really fast. Don't over cook so the tortilla remain soft and able to be rolled.

Once finished, the tortillas are ready to serve.

To store the tortillas, cool completely and place them in a zipper bag and refrigerate up to 5 days. You can also freeze them in plastic freezer bag but make sure to place parchment paper between tortillas to make sure they do not stick.

Prepare the filling:

In a large bowl, mix 3/4 cup sour cream, 8 ounces softened cream cheese, 3.5 ounces chopped black olives, 1/4 cup chopped red pepper, 1 cup shredded cheddar cheese, 1/2 cup chopped green onion, 1/2 teaspoon garlic powder, and salt to taste, until well combined.

Spread  the mixture over 5 to 6 tortillas and roll up tightly.

Wrap the rolls with plastic wrap and refrigerate for several hours or overnight to blend the flavors.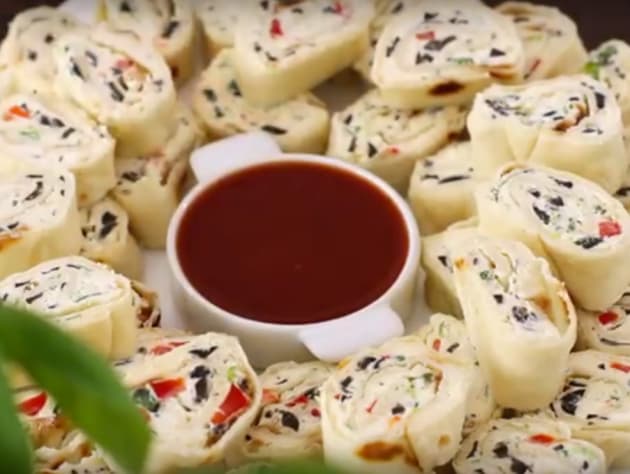 Check out the video below for all the delicious details.

Unwrap the rolls, and using a very good sharp knife cut into 1/2 to 3/4 inch slices. Discard the ends.

Garnish with parsley and serve with spicy salsa for dipping.

Then serve, eat, and enjoy!