You order them at the restaurant.

Why not have them at home?

And we've found a way to do it that doesn't require calling for take-out.

Let's make Olive Garden inspired Toasted Ravioli!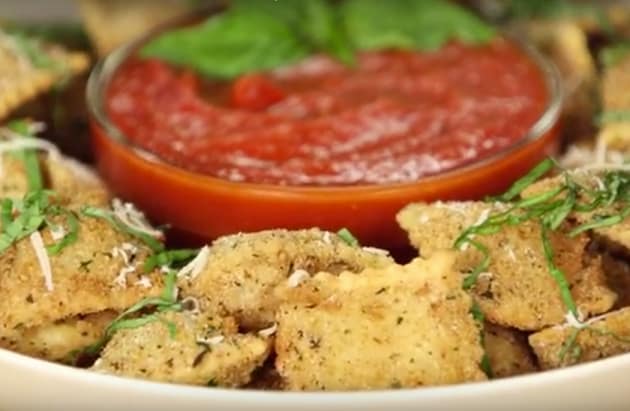 In a heavy bottomed stock pot, heat oil to approximately 350ºF.

You can tell if the oil is ready by dropping in a small pinch of flour and it should start to sizzle and fry right away.

Whisk together 1 beaten egg plus 1 additional beaten egg yolk, and 1/4 cup buttermilk.

In a separate bowl mix together 1 teaspoon dried basil, 1/2 teaspoon garlic powder, 1 cup seasoned breadcrumbs, 1/2 teaspoon salt, and a pinch of black pepper.

Then add 1 cup flour to a third bowl.

Then take 1 16 ounce package of refrigerated ravioli and, working in batches, dip ravioli in flour, egg mixture, and then breadcrumbs.

Immediately place into the hot oil and fry for approximately 30 seconds on each side until golden brown.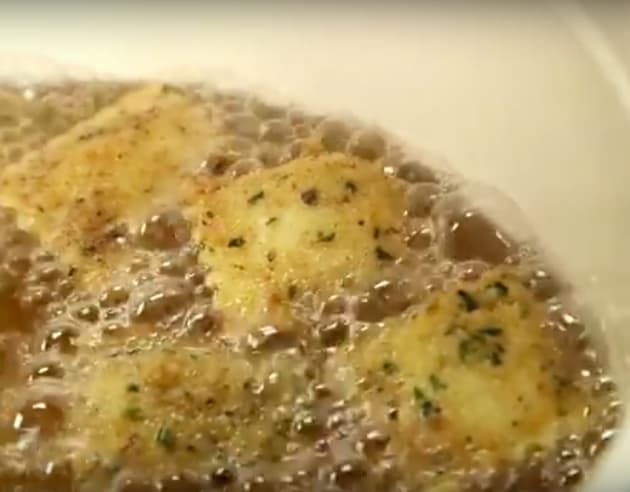 Check out the video below for all of the delicious details.

Remove from oil and drain on paper towels.

Sprinkle immediately with a pinch of sea salt.

Top ravioli with parmesan and basil and serve warm with marinara sauce for dipping.

Then eat and enjoy!