Whether it's for a holiday party or a stay at home snack, this tasty treat is the bomb.

It's soft and flaky, warm and gooey…

And oh so satisfying.

We're making Garlic Cheese Bombs!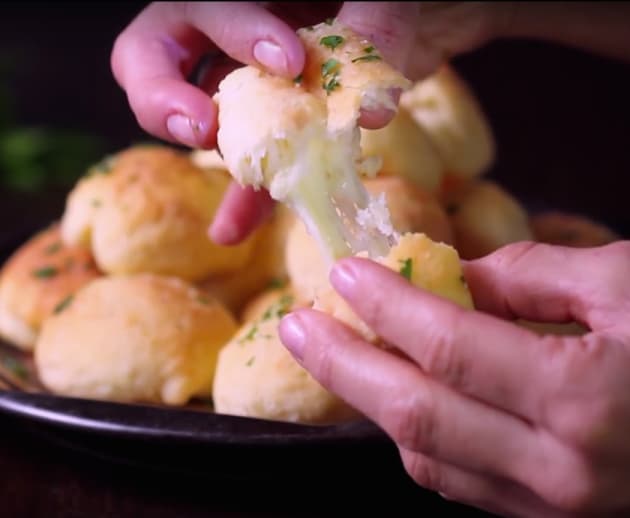 First preheat oven to 400 F. Line a baking sheet with parchment paper.

In a medium-large bowl whisk together 2 cups flour, 1 tablspoon sugar, 1/4 teaspoon salt, 2 and 1/2 teaspoon baking powder and 1 and 1/2 teaspoon garlic powder.

Add 5 tablespoon butter cut into cubes, and using a pastry cutter or fork, cut the butter until the pieces are no bigger than peas.

Incorporate 3/4 cold buttermilk and knead gently to bring it together.

Refrigerate the dough for 10 minutes.

Meanwhile cut 5 ounces of mozzarella cheese into 18 pieces.

Dust the working surface with flour and roll the dough into a 12 x 15 inch rectangle. Cut in 18 pieces.

Place a piece of cheese in the middle of each piece of dough and wrap the dough around the cheese making sure the edges are well sealed.

Roll in your hands to form a ball and place in the prepared baking sheet.

Bake for about 15 to 18 minutes until golden brown.

While they bake, prepare the butter mixture.

Melt 2 tablespoons butter into a small sauce pan, add 1 clove minced garlic, 1 teaspoon fresh, chopped parsley and 1/4 teaspoon salt.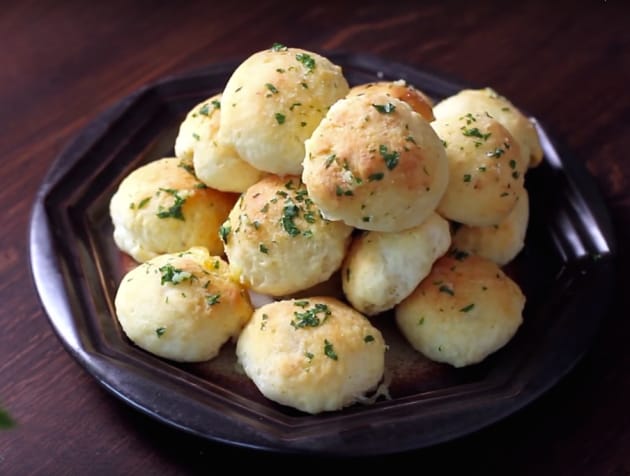 Check the video below for all of the tasty tips and details.

Cook for 1 minute. Remove from heat.

Brush the tops of the cheese bombs with butter mixture and serve hot.

Then eat and enjoy!