We're putting two of our favorite things to make an awesome appetizer or quick snack.

It's bite sized mac and cheese…

And we've added bacon to make it even better.

Let's Make Bacon Mac & Cheese Bites!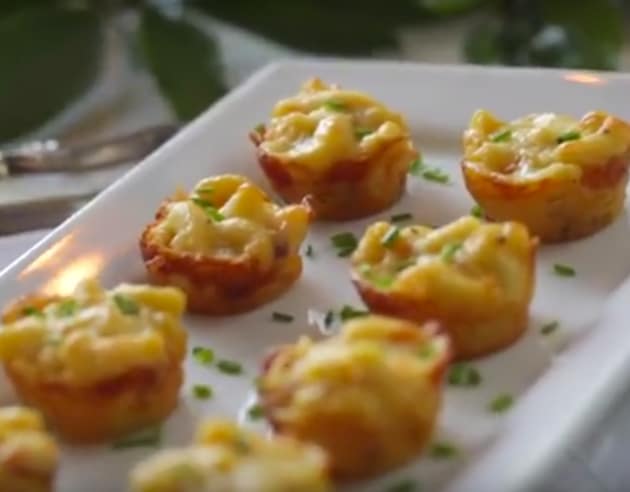 Preheat your oven to 375F.

Grease a mini muffin tin lightly with melted butter and set aside.

Boil 1 cup tiny elbow pasta according to package instructions.

Cook bacon in skillet or in microwave. To microwave line a plate with paper towel, place bacon on top, and then place more paper towel on top. Microwave on high for 6 mins until browned and crispy. Allow to cool on towel.

Chop bacon into a rough chop, about 1/2 cup.

Then in a large skillet prepare the cheese sauce.

Melt 3 tablespoons butter, add 2 tablespoons flour and whisk.

Cook for 1 minute then slowly whisk in 1 cup milk, whisking all the while, a smooth sauce will develop.

Add 1/4 teaspoon cayenne, 1 teaspoon salt, 1 garlic clove, minced and pepper to taste.

Then add 1 cup sharp cheddar cheese, and whisk until smooth.

Remove from flame and allow to cool slightly.

Drain pasta and transfer it into a large bowl. Add cheese sauce and stir to combine. Then add 1 egg and 2 egg yolks,  1/3 cup flour, and bacon. Stir to combine.

Using a mini ice cream scoop portion out into muffin tin, and top with 1/2 cup mozzarella cheese.

Bake for 13-15 mins until golden brown and cheese has melted.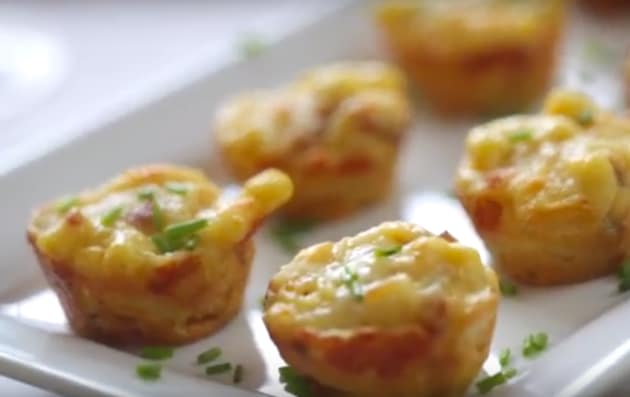 Check out the video below for all of the delicious details.

Allow to cool to set up and become stable.

Place on platter and top with freshly snipped chives.

Serve, eat and enjoy!