Top Chef Review: Restaurant Wars!
Emily Caruso | Jelly Toast Updated
It was time for restaurant wars on Top Chef this week. Read all about them now!
The long awaited and fan favorite challenge, Restaurant Wars, is here!
The chefs of this season are packing some serious talent and could potentially blow the judges away with their restaurant opening, but as we all know too well, there is potential for serious disaster and unexpected upsets when working on a large team - no matter what the talent level.
The chefs are divided into two teams of five as follows:
Purple Team (Fin) - Stephanie, Nicholas, Travis, Carrie and Brian
Green Team (Found) - Nina, Carlos, Justin, Sara and Shirley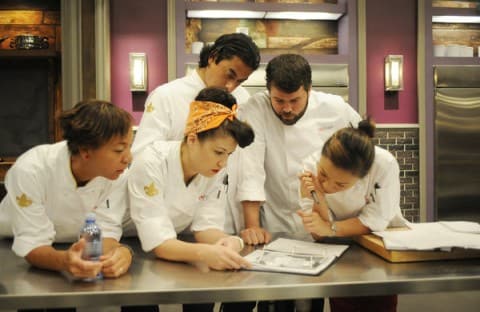 While the Green Team has some powerhouse chefs like Nina, Shirley and Carlos in their corner, the communication amongst the team is lacking. They spend their entire planning period coming up with a loose concept and decorating ideas, but don't take the time to discuss actual menu items before they go shopping.

As the planning continues, it becomes more and more clear that communication will be the downfall of the Green Team. From tempers flaring in the kitchen between Justin and pretty much everyone else to Sara dropping the ball in training the wait staff, The Green Team is going to have an uphill battle on their hands.

The Purple Team, on the other hand, quickly decides on a seafood concept and hashes out their recipe ideas. As the Executive Chef of the Purple Team, Nicholas does an impressive job organizing his fellow chefs, getting the restaurant set up and ready for service. If they keep it up and put out decent food, they shouldn't have a problem pulling in the win as the Green Team crumbles around them.

Service
The Purple Team (Fin), as expected based on their initial planning, does an impressive job during service. Travis nails the front of the house, bringing very complimentary words from Tom, who really appreciates the way Travis interacts with customers.

The judges are also pleased with the speed and efficiency in which the dishes are coming out from the kitchen. Overall, the chefs' seafood recipes are successful, with Nicholas' Roasted Black Drum topping the charts.

Brian: Scallop Crudo, Corn & Squash Relish with Purple Corn Gel
Carrie: Sauteed Gulf Shrimp, Chickpea Puree, Oregano & Lemon
Stephanie: Linguini with Caviar, Oyster Cream & Fennel
Nicholas: Roasted Black Drum, King Trumpet Mushrooms, Oxtail, Kale & Hibiscus Reduction
Travis: Olive Oil Cake with Greek Yogurt, Cherries & Pistachios

Green Team (Found)
The Green Team's restaurant, Found, gets off to a very rocky start. Sara struggles with the front of the house, her demeanor feeling very forced and completely insincere. She is doing such a lousy job with the service and managing the wait staff, that the judges are almost laughing at the absurdity of it during their entire dining experience.

She very unceremoniously plunks down the plates in front of the judges and strolls off, without a whiff of an explanation, leaving Gail to read the menu aloud to everyone so they know what they're eating. Plus, her cake fails to impress anyone in the entire restaurant. In the back of the house, Justin is doing an equally poor job organizing the firing of dishes and his ticket system is a complete mess. I've never seen a chef so stressed out about the ticket system.

Either it's truly as bad as he's making it out to be, or he's desperately looking for an excuse for his poor performance. I suspect it's a bit of both. On top of that, the judges are displeased with his rabbit recipe. It's going to be a toss up who goes home between Sara and Justin. The highlights of the Found restaurant were Shirley's poached fish recipe and Nina's pork tenderloin recipe, which the judges were very pleased with.

Carlos: Red Snapper Crudo, Avocado Mousse, Pickled Baby Carrots & Fried Plantano
Justin: Roasted Parsnip Agnolotti, Mississipi Rabbit & Collard Greens Broth
Shirley: Olive Oil Poached Cobia, Blanched Ong Choy & Salsa Verde
Nina: Pork Tenderloin with Sunchokes & Trumpet Royale Mushrooms
Sara: Summer Nectarine Brown Butter Cake with Moscato Nectarine Salsa

Judges Table
Not shockingly, the judges name the Purple Team (Fin) as the winners of restaurant wars. The top two chefs were Travis and Nicholas, with their performances in organizing the front and back of the house almost flawlessly putting them well in front of the other restaurant.

Nicholas ends up being the overall winner due the the fact that his fish recipe was the favorite dish of the menu, and his skills in expediting in the kitchen were beyond impressive. It's great to see both him and Travis excel in their respective jobs and the rest of the team stand behind them in support.

The judges don't mince words when it comes to the Green Team's performance. The word 'disaster' gets thrown around on more than one occasion. As predicted, Justin and Sara are the worst offenders, and by a narrow margin, Sara gets sent home. It ultimately came down to the fact that her poor training of the wait staff could have led to at least some of the confusion in the kitchen (the poor ticket system that will be sure to give Justin nightmares for weeks) and the fact that her dessert was simply bad.

Top Chef is not for the weak at heart, and it just goes to show how difficult this competition is. Sara undoubtably has talent galore, but some of that goes out the window when thrown into these bizarre cooking situations. Perhaps her focus on the front of the house, when that clearly is not where her strengths lie, was her downfall.

Tags: Top Chef, Cooking Shows