Top Chef New Orelans Recap: "Commander's Palace"
Emily Caruso | Jelly Toast
Top Chef New Orelans featured a double elimination this week. Who was sent packing? Find out now!
The competition is heating up this week on Top Chef with a double elimination.
One chef will be sent home during both the Quickfire and Elimination Challenges.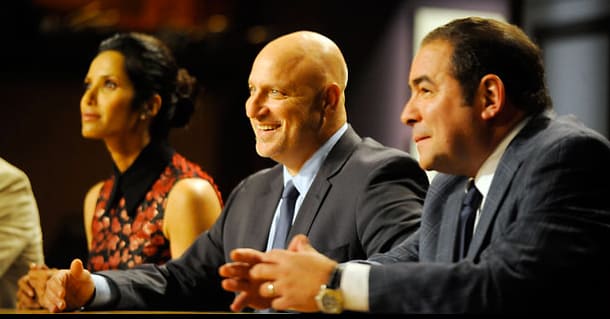 Padma and Emeril welcome Dana Cowin, the Editor-In-Chief of Food & Wine Magazine, as the guest judge for today's Quickfire Challenge. For the Quickfire, the chefs are challenged to create a dish that reinvents one of four popular food trends that Dana feels are past their prime: Bacon, Smoked, Eggs-on-top and Kale. It's great to see some of these trends be called out as being tired and overdone. It's up to the chefs to convince Dana that these trends can once again be fresh.

She even goes as far as to point out dishes to avoid making, such as kale salad and kale chips. They've been done. Enough already.

During the tasting, Dana's favorite dishes are Nina's Quail Egg on Confit Potatoes with Leek & Potato Puree, Stephanie's Pasta with Lightly Candied Bacon & Flash Fired Sweet Potatoes and Shirley's Rice Congee with Shirred Egg, Soy Sauce & Sesame Oil. Dana was most impressed by the delicate seasoning and beautiful texture of Shirley's egg and awards her immunity.

In the bottom are Bret, Louis and Aaron. Bret did exactly what Dana told him not to do and prepared a tired kale salad. Louis prepared a lack luster Smoked Trout, but it was Aaron's beyond salty fried kale that gets him eliminated. It's disappointing to see Aaron go after his solid performance last week, but it just goes to show how stiff this competition is.

For the Elimination Challenge the chefs travel to the iconic Commander's Palace to enjoy a four course meal made up of classic dishes created by past and present Commander's Palace chefs:

Shrimp & Tasso Henican (created by Chef Jamie Shannon)
Black Skillet Seared Trout (created by Chef Paul Prudhomme)
Veal Chop Tchoupitoulas (created by Chef Emeril Lagasse)
Strawberry Trio (created by Chef Tory McPhail)

Current Executive Chef, Tory McPhail presents the chefs with their Elimination Challenge: replicate a classic commander's palace dish in both taste and presentation.

The chefs are split up into four groups and are assigned a dish to recreate. This challenge is quite different than other challenges in that the judges are looking for absolutely no personal take on these classic dishes.

Pure imitation is the name of today's game. During cook time, the Black Skillet Seared Trout group goes about prepping their dishes in an unusual way. For some reason, they decide to work together on certain elements of their dishes, even though this is not a 'team' challenge. This comes back to bite them in the end because Louis creates a bland blackening seasoning that brings down all four trout dishes.

Also in the kitchen, tempers flare when Shirley's beets disappear, Nina accidentally plates her dish on Michael's plates and Bret scrambles to find just a smidgen of grill space. Emotions are running higher than usual in the kitchen.

Unlike other challenges on Top Chef, the dessert group actually comes out on top, with two of the three chefs on top being from the dessert group. The judges go as far to say that Stephanie's biscuit for her strawberry shortcake is better than the original Commander's Palace biscuit. The judges are also impressed with Nina's take on Shrimp & Tasso Henican (the only non-dessert finalist) but it's Justin's spot on beignet that brings him the win.

It's inspiring to see the local New Orleans chef come out on top in this challenge centered around a New Orleans icon.

Louis's bland seasoning lands him and Carlos in the bottom of the pack. Carlos also struggled with controlling the temperature of his skillet and therefore over cooked his trout. But it's Bret's 'steamed' veal chop coupled with his off-the-mark seasoning that get's him sent home. Bret has seemed lost during every challenge up to this point, so perhaps this elimination was a few episodes coming.

With the group of chefs growing smaller, it will soon become clear who is going to be consistently on the top of the pack and who will continue to fall short. Join us next week as the chefs tackle Vietnamese cuisine.

Tags: Top Chef, Cooking Shows