Top Chef Masters Finale: Who Won?
Emily Caruso | Jelly Toast
Who came out on top of the Top Chef Masters finale? Read this recap and review for the answer!
The finale of Top Chef Masters is here and Bryan, Jennifer and Douglas are ready to battle it out for the title of Top Chef Master. 
The tables get (temporarily) turned and the remaining chefs kick back, relax and enjoy a meal together, prepared by Curtis. During the dessert course, Curtis sits down with the chefs and explains to them their Elimination Challenge.
For their final meal, they are to show the critics the courses of their career, translated into a four course meal. In true Top Chef Masters style, they go full out on the theme for the episode and want each chefs' courses to represent something old, something new, something borrowed and something sous.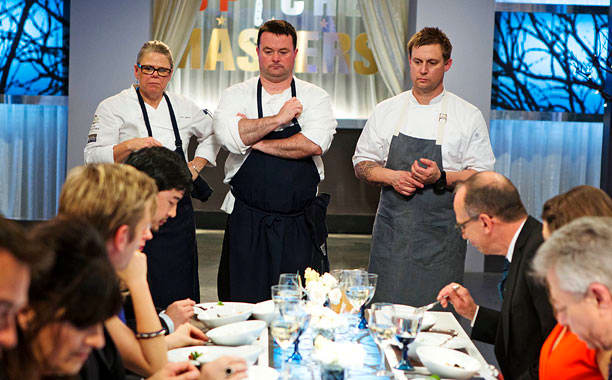 Bryan's sous chef, Graham, won the Battle of the Sous Chefs while Douglas' sous chef came in on the bottom. Due to the loss, Douglas will not have the help of his sous chef while shopping for ingredients as well as during prep time in the kitchen.

Because of this, Douglas plays it smart with his shopping and takes care to gather all of his ingredients at one store so that he can have the most time in the kitchen as possible. Bryan and Jennifer both shop around a bit, traveling to specialty shops for their ingredients, but lose time in the kitchen as a result.

During the prep time, Bryan and Graham are methodical in their preparations - finishing tasks quickly and efficiently. Douglas is also working quickly, but is lagging behind the other chefs due to the fact that he is working alone. Jennifer and Jorel have an interesting working relationship, and it appears at times that Jennifer is micromanaging Jorel left and right; not allowing him to work unsupervised on any task.

Despite this, Jennifer is one to watch in this competition and could very well be the surprise victor when all is said and done. She fought her way back from elimination and has continued to pick up steam in her cooking.

The Tasting
Along with the usual critics, there are several guest critics, some of whom we've seen previously in the season, comprised mainly of magazine editors and award winning food critics. That's just a wee bit intimidating, even for these seasoned chefs.

For the first course, the chefs were told to create a recipe from their past to represent 'something old.

Bryan - Groat Salad with Dungeness Crab, Asparagus, Hen Egg Custard & Chicken skin.
Douglas - Soup Billi Bi with white WIne, Saffron, Fennel Puree & Uni
Jennifer - Potato-Sunchoke Galette with Salmon, Caviar, Pickled Apple & Creme Fraiche.

All of the apple recipes in this course seem very seasonal, and the critics are literally licking their bowls clean.

For the second course, each chef prepares 'something new' to show where they are at currently in their careers.

Bryan - Black Cod with Onion Dashi, Date & Parsnip Puree & Green Apple
Douglas - Soba Wrapped Ocean Trout, Ginger Dashi & Groats
Jennifer - Paella Gnocchi with Chicken Meatballs, Mussels & Shrimp

Jennifer's gnocchi recipe looks out of this world, and the critics love her refined, yet comforting take on a classic dish.

The third course is 'something borrowed' and the chefs were to borrow inspiration from their teachers and mentors over the years.

Bryan - Braised Beef Cheek & New York Strip with Seaweed Potatoes & Maitake Mushrooms
Douglas - Duck Breast with Sake Roasted Daikon, Tamarind, Golden Pea Sprouts & Dates
Jennifer - Chinese Duck with Shitake Broth, Eggplant Daikon, Grilled Bok Choy & Duck Wonton

The fourth and final course is 'something sous'. This course is the chefs take on their sous chefs' final dish in the Battle of the Sous Chefs.

Bryan - Coconut, Lavender & Vanilla
Douglas - Black Sesame Panna Cotta, Shattered Miso Custard & Green Tea Matcha
Jennifer - Smoked Macadamia with Chocolate Bavarian Napoleon, Tapioca & Milk Caramel

It's great to see that all of the chefs are pleased with their offerings, and there weren't any major mistakes or disappointments. It's difficult to see chefs lose because of an untimely mistake. The critics have their work cut out for them to decide who is the ultimate winner.

Critics' Table
Overall, the critics were blown away by each dish that was presented. James Oseland goes as far to say that several of the dishes he had at this finale (particularly Bryan's Cod recipe) were the best that he had ever eaten…in his life. That said, the critics were able to find some nitpicky things such Bryan's third dish was ever so slightly heavy, and Jennifer interpreted her sous chefs' dish perhaps a bit too literally. However, t's obvious that these issues were minor and difficult to find.

They critics are clearly happy little campers.

After much deliberation the critics make a final decision and name Douglas Keane the winner of Top Chef Masters! It's Douglas' combination of precision and soul that won them over in the end. He was true to himself and his style and it came out in his food. It's disappointing to see Bryan go home again from a Top Chef show, falling just short of a win. But I'm a huge Voltaggio fan, so what can I say? I was pulling for him to win. 

This was quite possibly the most compelling season of Top Chef Master's to date. The challenges were fresh and funny, and the chefs were both talented and inspiring. Speaking of inspired, gnocchi is now on my list of 'must make' recipes.

Tags: Top Chef Masters, Cooking Shows
Sign Up for Weekly Personalized Recipes. FREE!