Food Network Star Review: "Star Charity Auction"
Stephie Predmore | Stephie Cooks
Food Network Star was in a charitable mood this week. Read on for our latest rundown of the popular program.
This week on Food Network Star, the contestants' vocabulary skills were put to the test as they learned about the importance of being able to craft detailed descriptions of their food for audiences, a lesson that proved shockingly difficult for most of the finalists.
They are:
Chad Rosenthal – 37, Restaurant owner and father from Pennsylvania.
Damaris Phillips – 32, Chef instructor from Louisville, Kentucky.
Nikki Dinki – 29, Food blogger from New York City.
Rodney Henry – 47, Owner of Dangerously Delicious Pies and father of two from Baltimore.
Russell Jackson – 47, Underground supper club owner from San Francisco.
Stacey Poon-Kinney – 34, Restaurant owner and mother from San Diego.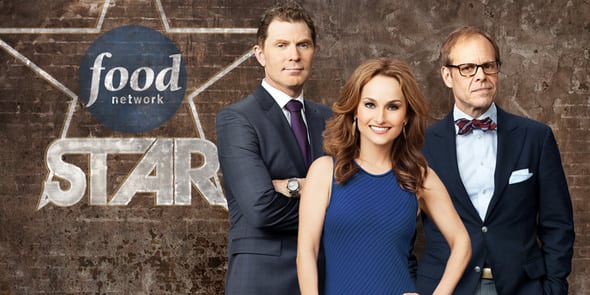 This episode started out with a killer of a mentor challenge for most of the finalists: give a 60-second description of a dish made by Bobby Flay himself. The trick? Do not use "crutch" words such as "delicious," "wonderful," or "incredible."

Unfortunately, most of these supposed "food authorities" must not have paid much attention to English lessons in school, because the majority of them completely failed at this challenge. The two worst performers were Russell and Rodney, neither of whom were able to go more than a few seconds without using a generic descriptor, with Rodney's favorite being "dynamite."

Stacey, however, blew away the competition by not only avoiding crutch words completely but also telling a story to help her audience understand the dish even better.

Her performance ultimately won her an advantage (which she did not end up needing) in the always-stressful Star Challenge: Create a signature dish and sell it in a charity auction where the bids reflected how well the finalists described their dishes to the auction attendees, with all proceeds of the auction going to Share Our Strength.

Stacey stuck with her "vintage kitchen" modernized comfort food point of view and blew away the competition with the description of her Maple Bacon Cheesecake. Nikki also really stepped up this week and began to show confidence in her food, which showed in the detailed descriptions of her dishes.

Russell and Chad, however, were not so successful, finding themselves – not surprisingly - in the bottom two. Even though their dishes both brought in a solid amount of money from the auction, their performances at the auction were less than lackluster.

In the end, the judges had to consider that Chad had been consistently in the middle of the pack, without any real shining moments, while Russell had a few good moments that helped to save him from elimination. If Russell wants to stay in the competition any longer, however, he definitely needs to "revolutionize" his performance.

Connect with the camera; learn how to describe your food as something other than "sexy;" and stop confusing people with your convoluted culinary point of view.

All that said, check out our updated section of Food Network recipes.

Tags: Food Network Star, Food Network, Cooking Shows