Food Network Star Review: Product Pitch
Stephie Predmore | Stephie Cooks
What does it take to be a Food Network Star? The finalists discovered the answer on this week's episode.
This week on Food Network Star, the finalists learned that being a culinary big wig is about more than just being a good cook and having a presence on camera – it is also about creating and promoting a personal brand.
The Remaining 7 Finalists:
Chad Rosenthal – 37, Restaurant owner and father from Pennsylvania.
Chris Hodgson – 27, Food truck and restaurant owner from Cleveland.
Damaris Phillips – 32, Chef instructor from Louisville, Kentucky.
Nikki Dinki – 29, Food blogger from New York City.
Rodney Henry – 47, Owner of Dangerously Delicious Pies and father of two from Baltimore.
Russell Jackson – 47, Underground supper club owner from San Francisco.
Stacey Poon-Kinney – 34, Restaurant owner and mother from San Diego.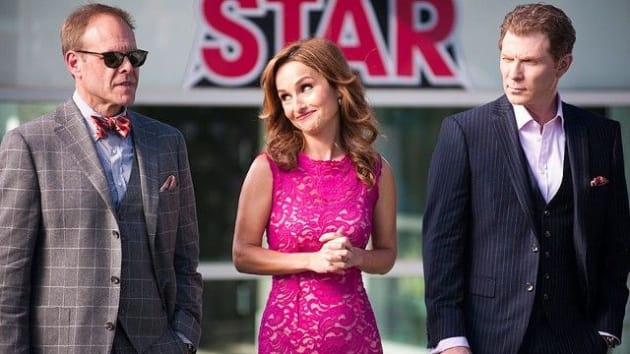 The mentors wasted no time in jumping right to the point of this week's challenges: create two possible food products that reflect the finalists' unique culinary points of view and sell these products to an audience.

The contestants were tasked with pitching both products to the mentors; then, based on the mentors' feedback, to choose one product to pitch to executives from Kellogg's, Kraft Foods and Target. No pressure.

Some of the finalists had an easy time coming up with products to create and pitch; it was obvious for Chad to follow his barbecue roots and make baked beans, while Rodney was obviously going to take the opportunity to make a pie recipe. Other finalists, such as Chris and Damaris, had a more difficult time trying to develop their culinary points of view into a product that could be packaged and put on a shelf.

At the end of the day, Stacey, Damaris, and – surprisingly – Russell were the finalists who did the best with both their pitches and their products.

The executives loved Stacey's "vintage kitchen" personality along with her cayenne butterscotch sauce; even though Damaris wasn't completely herself during her pitch, the execs thought her grilled peach jam was to die for; Russell, for the first time in this competition, was actually able to connect his "food revolution" with his audience and served food that the execs enjoyed.

Rodney, Nikki, Chad and Chris, however, were not nearly as successful with either their pitches or their products. While none of their products were exactly received badly, they were not outstanding, and they all failed to connect with their presentations in one way or another. Rodney, Nikki, and Chad were all kept safe in the long run, most likely due to their shining personalities in previous challenges.

While Chris had shown a glimmer of potential earlier in the competition, his recent inability to connect with focus groups and provide excellent food is what surely sent him home here. He certainly learned the hard way that being a "salesman" may help you bring in food truck customers, but being emotionally distant is not going to help you become a star on the Food Network.

And remember: Visit our section of Food Network recipes today!

Tags: Food Network Star, Food Network, Cooking Shows
Sign Up for Weekly Personalized Recipes. FREE!