Food Network Star: 4th of July LIVE!
Stephie Predmore | Stephie Cooks
Food Network Star celebrated the Fourth of July this week. Read on for a recap of the latest installment.
This week on Food Network Star, the mentors challenge the finalists to demonstrate their ability to adapt and go with the flow on live television – while still maintaining their status as a "food authority."
The Remaining 8 Finalists:
oodoodChad Rosenthal – 37, Restaurant owner and father from Pennsylvania.
Chris Hodgson – 27, Food truck and restaurant owner from Cleveland.
Damaris Phillips – 32, Chef instructor from Louisville, Kentucky.
Nikki Dinki – 29, Food blogger from New York City.
Rodney Henry – 47, Owner of Dangerously Delicious Pies and father of two from Baltimore.
Russell Jackson – 47, Underground supper club owner from San Francisco.
Stacey Poon-Kinney – 34, Restaurant owner and mother from San Diego.
Viet Pham – 34, Chef and restaurant owner from Salt Lake City.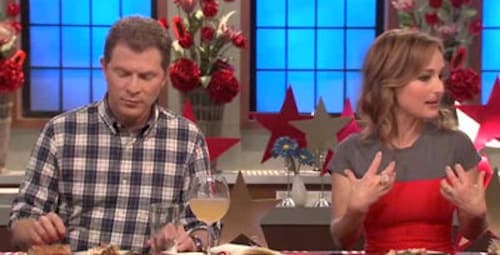 Giada kicked off this week by announcing the Mentor Challenge: the finalists would be doing a three-minute live cooking demo with Terrence Jacobs from E! News.

Each of the finalists would be presenting the same sandwich recipe and would each be thrown a different curveball to see how they deal with live TV adversity. Stacey, Russell, Damaris and Chris were all completely unphased by their curveballs, while Viet, Nikki, and Chad completely flopped on-screen.

Rodney, however, was the winner of the challenge, winning him an advantage in the Star Challenge.

In a spin on the Food Network's ever-popular "Thanksgiving Live!" show, for the Star Challenge the finalists were put to the test with a "4th of July Live!" show.

Rodney had the ability to choose which station each of the 8 finalists would be "authorities" at for the episode; however, his "strategic" choices turned out to not work so much in his favor. His attempts to bring down Nikki by placing her at the fried chicken station, Chad with the veggie station, and Stacey with the barbecue station all failed – each of these finalists shone with their dishes, and ranged from mediocre (Chad) to outstanding (Stacey) in their performances.

Rodney nearly brought himself down by assigning himself to desserts and then serving a bad meringue – and babbling incessantly while doing so. Viet and Russell, however, were the biggest disappointments this week – each of them were given relatively "easy" stations (chips and dip and potato salad, respectively) for which they made terrible food and turned out bad performances to boot, landing them in the bottom two.

Neither of these failures was a monumental surprise, given the fact that neither finalist has shown much ability on-camera and their food has been mediocre at best to this point. Russell, however, showed one tiny glimmer of hope this week in his throw to commercial that proved to be his saving grace and kept him from elimination.

At this point in the competition, these finalists should be developing real on-camera personalities and creating good food on a regular basis.

Russell, Rodney, and Chris (and Damaris, more often than not) all need to start pulling themselves together if they want to have any hope at making it more than one more week in this competition.

NOTE: Bookmark our evolving section of Food Network recipes today!

Tags: Food Network Star, Food Network, Cooking Shows