The Pioneer Woman Review: "Special Delivery"
Emily Caruso | Jelly Toast Updated
What went down on the latest episode of The Pioneer Woman? Read on for a review.
I have to be completely honest. One of the reasons I watch The Pioneer Woman is to lose myself in the beauty of the Drummond Family Ranch. The huge open spaces, gorgeous sunsets and lovely Lodge are worth watching the show alone. But then you throw in Ree's completely decadent yet approachable food and I'm hooked.
"Special Delivery" was full of recipes that Ree whipped up to deliver to her family and friends. And there was a lot of truck driving and horse riding going on, too.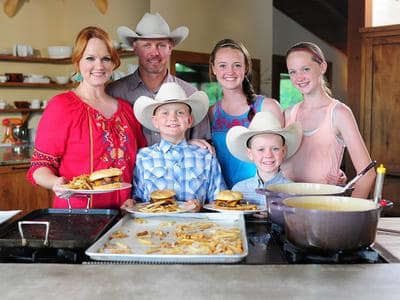 The episode starts before the sun even comes up, as Ladd and the kids (and probably some other help, too) saddle up the horses and get to rounding up some cattle. Now, I'm not entirely sure what that means, but it seems like pretty hard work; especially when that work starts before it's even light out.

Delivery #1 Ranch Crew Breakfast

After seeing her family off, Ree heads to the Lodge to whip up some breakfast for the hardworking cattle rounder-uppers. Or whatever they're called. She gives us a run down of the yeast dough she made last night that she plans on turning into orange sweet rolls. The thing that I find interesting about this dough is that Ree uses yeast, baking soda and baking powder in it.

I'm not yeast bread recipe expert (by any stretch of the imagination) but I haven't come across a recipe that included all three ingredients. The whole process looked easy enough though, and then she popped it into the fridge to use the next morning. You gotta love that simple, make ahead mentality. Definitely going to give this one a try.

Ree arrives at the Lodge and pulls out the dough; working with it right out of the fridge. She rolls out the dough and fills it with some melted butter, orange marmalade, brown sugar and just a dash of salt. The recipe embodies what I love about her cooking; it's homemade (the dough) but she uses some help from pantry items (the marmalade).

Plus, these little sweet rolls look incredibly yummy; a bright twist on the traditional cinnamon roll. She then tops the whole thing off with a sweet orange glaze drizzled over the warm rolls.

And as if there wasn't enough decadence with the rolls going on, she fries up some thick cut peppered bacon to go with them. I guess after an early and tiring morning of working cattle, this is the kind of meal I would want, too. Who am I kidding? I want it after sitting around on a Saturday watching Food Network.

Ree packs up her rolls and bacon and heads out to make her first delivery. The family is tired from all of their work and seem to be quite pleased with their breakfast delivery. Watching Ree's family all work together with smiles on their faces, munching on rolls and bacon, is just too cute.

Delivery #2: Thank You Dinner To Go

On the second delivery menu is Beef Stew with Creamy Cheddar Grits for her friend Hyacinth's family. Hyacinth takes Ree's oldest daughter, Alex, as well as her own daughter to a homeschool co-op every Friday and this Beef Stew is Ree's way of saying, "Thank you!"

I have to say that slow cooked beef stew might be one of my favorite ways of receiving thanks, too.

She starts off with huge cubes of beef chuck browned in a large pot. While beef chuck takes a couple of hours to cook, it can get incredibly tender when all is said and done. She layers in onion, beer (yay!), beef stock, tomato paste and sugar and then adds the meat back into the pot to simmer and bubble away for a few hours. I can only imagine how good her kitchen smells right about now.

She finishes the stew off with some chopped up root veggies and I truly think I will be dreaming about this stew until I make it myself. Guess what's for dinner at my house tonight?

Can I take a moment to discuss Ree's incredibly impressive collection of Le Creuset cookware? I would love to know just how many Dutch ovens and cast iron skillets she has in her kitchen. I've counted five so far in this episode alone. I think I could just about live in one of those, they're so beautiful. Seriously, stunning.

Back to the recipe.

Ree starts sauteing up some veggies to start her creamy cheddar grits, in a lovely cassis pot; okay, I promise I'm done talking about the pots.

After adding the stone ground grits she pours in some chicken broth, half and half and of course, sharp cheddar cheese. Mountains of cheddar cheese.

After loading up the rich beef stew and it's even richer cheesey-grit side kick, Ree heads to Hy's house to make the swap: a daughter for a dinner. Hyacinth and her family are thrilled with the dinner delivery (who wouldn't be?) and Ree and Alex start their drive back to the ranch; complete with a beautiful sunset. I wonder if Ree would adopt me? I'm not so great at horse riding, but I would be willing to scrub all of her pots. Maybe not all of them, but at least a couple.

Overall, this is a great episode packed full of flavorful yet approachable recipes that make me want to run to my own kitchen and get cooking. And for me, that's what watching cooking shows is all about. Finding the inspiration to create something wonderful and downright delicious for my own family.

Looking forward to next week, Ree!

REMEMBER: Follow this link for more The Pioneer Woman recipes!

Tags: Cooking Shows, The Pioneer Woman