Yes, you can buy them frozen, in a box, but this is so much better.

Because who doesn't want a warm, homemade breakfast in the morning.

Let's make Stuffed French Toast Pockets!
Mix 4 ounces cream cheese, 1/4 cup honey, and 1/4 teaspoon cinnamon together in a small bowl until consistency is smooth. Chill in the refrigerator for 30 minutes.

Preheat your oven to 400˚F.

Take 8 slices of white bread and roll each slice flat with a mason jar or rolling pin.

Put about 1 tablespoon of filling in the center of a slice.

Place another slice directly on top, as if you were making a sandwich, but be careful not to press down on the center so the filling doesn't spread.

Using a biscuit/cookie cutter or a wide-mouth mason jar lid, press firmly down on the sandwich and remove the crust around the lid.

Use a knife to refine the edges of the circle. Gently release pocket from the cutter or lid.

Press down firmly on the outer edges of the pocket with a fork to make indentations.

Repeat the above steps for each pocket. Set pockets aside.

Line baking sheet with parchment paper. Place baking rack on top of parchment paper and coat with cooking spray.

Whisk 2 eggs, 2 tablespoons milk, 2 teaspoons vanilla extract, and 1/4 teaspoon cinnamon together in a small bowl.

Separately dip each pocket in egg mixture, flipping to ensure it gets entirely coated. Let excess drip off.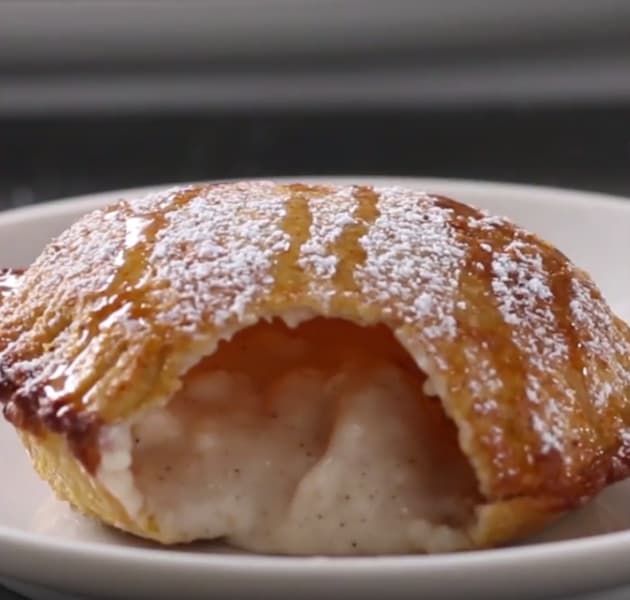 Check out the video below for all of the delicious details.

Arrange 4 pockets on baking rack. Bake for 15-25 minutes or until golden brown.

Let cool 5-10 minutes.

Garnish with powdered sugar and syrup.

Then eat and enjoy!