Blueberries are the perfect addiction to pancakes and these are made even more decadent by the addition of ricotta cheese.

Rich, creamy, and bursting with flavor…

These are the pancakes you'll want not just on special occasions but for ever breakfast.

We're making Ricotta Blueberry Pancakes.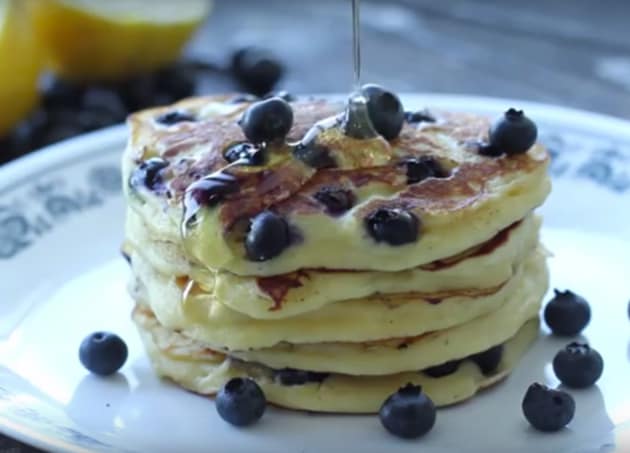 Separate 2 egg whites from the yolks.

Whisk together the egg yolks, 2 tablespoons sugar, 1 cup ricotta cheese, 1/2 cup buttermilk and 1 teaspoon vanilla extract.

Add 1 cup flour, 1 and 1/2 teaspoon baking powder, lemon zest and 1/2 teaspoon salt and whisk until no lumps remain.

Beat egg whites until soft peaks form. Gently fold the whipped whites into pancake mixture.

Lightly grease a nonstick pan over medium heat.

Add about 1/4 cup of pancake batter and spread to form a 4 inch pancake.

Check out the video below for all the delicious details.
Add blueberries on top and cook for about 2 to 3 minutes on each side until golden brown.

Garnish with fresh blueberries and serve with maple syrup or honey on top.

Then eat and enjoy!