How to Make Outback Steakhouse's Bloomin' Onion
Christine O
If you've enjoyed Outback Steakhouse's Bloomin' Onion at their restaurants, then you know how amazing it is.

Now you can have this tasty treat at home.

Let's learn how to make Outback Steakhouse's Bloomin' Onion!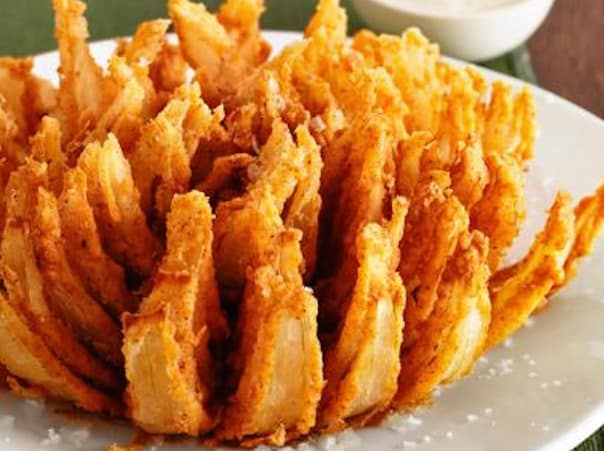 Take 1 large, sweet, yellow onion and cut off the top.

Place it cut-side down, and, using a sharp knife, make 1/2-inch cuts in a circular motion to create the "petals." Then flip the onion over and, using your hands, begin coaxing apart its layers.

In a large bowl, combine 2 and 1/2 cups flour, 1 teaspoon cayenne pepper, 2 tablespoons paprika, 1/2 teaspoon dried oregano, 1 teaspoon seasoned salt, 1 teaspoon garlic powder, and ground black pepper to taste.

Place the onion cut-side down in the bowl, cover with a plate, and shake to coat onion and each "petal."

Meanwhile, in a separate medium bowl, mix 2 large eggs with 1 cup whole milk. Dip onion in egg wash cut-side down. Then shake off excess egg wash and return onion to flour mixture to coat a second time.

Shake off any excess flour.

In a deep-fryer or a heavy Dutch oven, heat oil to 375ºF. Add enough oil so that the entire onion will be able to float.

In the deep-fryer or Dutch oven, add the onion cut-side down in the oil for 2 to 3 minutes, then carefully flip the onion and allow it to fry for an additional 2 to 3 minutes or until the batter is golden brown.

Move it to a plate covered in paper towels to drain off excess oil and season with a little salt.

Check out the video below for all the details to make both the onion and the special dip!

Serve immediately and enjoy!