There's nothing better on a cool day than a warm bowl of beef stew.

So when you need a great dinner for the whole family, we've got the answer.

Let's make Old Fashioned Beef Stew!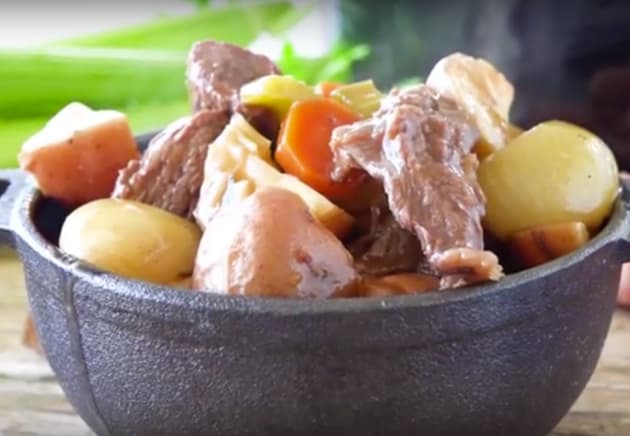 Dust 2 pounds beef stew meat with 2 tablespoons cornstarch.

In a large pot over medium-high heat, heat olive oil. Add beef stew meat, and sear for about 2 minutes per side.

Add in 2 cloves crushed garlic and cook 1 minute.

Pour in 4 cups beef broth and 1/4 cup worcestershire sauce to deglaze the pan.

Add 1 and 1/2 pounds red potatoes cut into 1 inch chunks, 10 ounces peeled pearl onions, 4 peeled and sliced carrots, 4 sliced celery stalks, and 2 tablespoons tomato paste.

Season with 1 teaspoon salt, 1 teaspoon sugar, 1/2 teaspoon parsley, 1/2 teaspoon paprika, 1/2 teaspoon dried oregano, 1/2 teaspoon dried basil, 1/4 teaspoon black pepper, and 1/4 teaspoon ground allspice.

Add in bay leaf.

Bring to a boil over high heat, reduce heat to low and simmer, covered, for 90 minutes.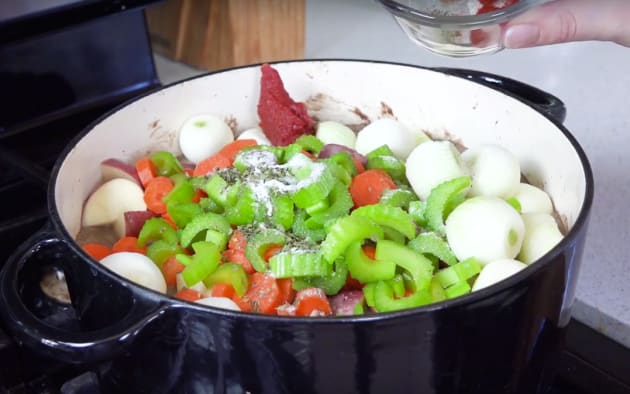 Check out the video below for all of the tips and delicious details.

In a small bowl, mix together remaining 2 tablespoons cornstarch with about 1/4 cup water.

Stir until completely dissolved. Pour the mixture into the stew. Stir over low heat until stew thickens.

Remove bay leaf before serving.
Then eat and enjoy this classic comfort food meal.