You'll love eating this warm homemade bread as the weather turns cooler.

It's got the perfect combination of cheesy taste, crisp crust, and soft center.

As an added bonus, there's no need for kneading!

We're making No-Knead Cheese Bread.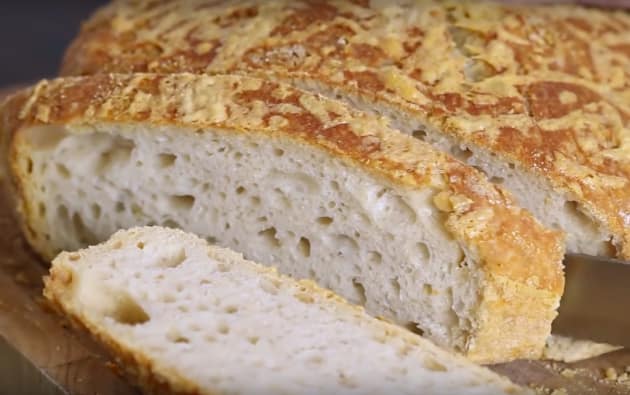 In a large bowl mix 4 cups flour with 1 teaspoon salt, 1/2 teaspoon garlic powder and 1 cup grated cheddar cheese.

Dissolve 3 grams fresh yeast (or 1/4 teaspoon active dry yeast) in 1/4 cup water and add to the flour mixture.

Then add 1 and 1/4 cups water and mix just until combined.

Cover the bowl with plastic wrap and let it rest for 16 to 18 hours at room temperature.

On a floured surface shape the dough into a ball using a dough scraper as the dough is really sticky to the touch.

Sprinkle flour and cornmeal over a clean towel, add the dough and cover. Let the dough rise for another 2 hours.

Turn your oven to 470F and add a 9 inch round cast iron pot inside without the lid. Leave it in the oven for about 30 minutes.

Remove the cast iron pot from the oven, turn the dough into the pan, add some grated cheese on top if desired and put the lid on. Bake for 25 to 30 minutes at 470F with the lid on to create steam.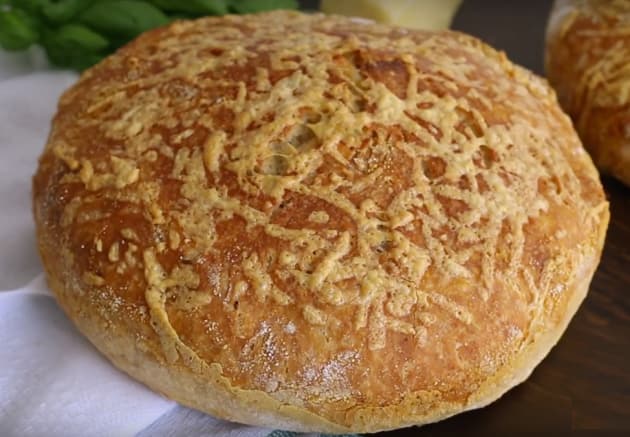 Check out the video below for all the tasty tips and details.

Remove the lid and bake for another 20 minutes at 440F to let the bread get some crispy golden brown crust.

Let it cool completely before cutting the bread.

Then eat and enjoy!