How to Make No Bake Nutella Swirl Cheesecake Bars
Christine O
Who doesn't love cheesecake?

But what could possibly make it better?

We've got the answer….

Let's make no bake Nutella Swirl Cheesecake Bars!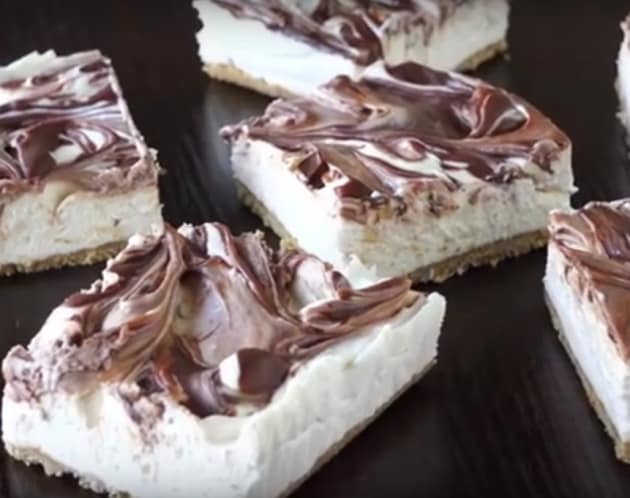 Spray a 9x9 baking dish with nonstick cooking spray then line with parchment paper.

In a bowl, stir together 1 cup crushed graham cracker crumbs and 5 tablespoons butter, melted, until all the crumbs are wet.

Press into the bottom of the prepared baking dish.

Pour 2 tablespoons cold water into a small bowl. Sprinkle 1 and 1/2 teaspoons powdered gelatin over water and allow to bloom for 5 minutes.

Meanwhile, pour 2/3 cup heavy cream into a large mixing bowl. Whip until stiff peaks form and set aside.

In a separate large mixing bowl cream together 16 ounces softened cream cheese and 3/4 cup powdered sugar until light and fluffy, about 2-3 minutes.

Whip in 1/4 cup sour cream and 1 and 1/2 teaspoons vanilla extract.

Microwave gelatin mixture for about 15 seconds, or until it turns clear. Pour into cream cheese mixture while mixing.

Fold whipping cream in with the cream cheese until well combined. Spread on top of graham cracker layer.

Place 1/3 cup Nutella into a small bowl. Microwave for 30 seconds to thin it out.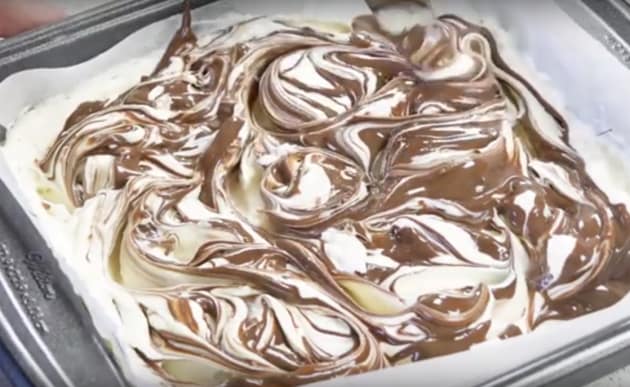 Drizzle it over the cream cheese layer. Use a butter knife to gently swirl it around.

Check out the video below for all the tips and delicious details.

Refrigerate 4 hours until set.

Slice, serve, and enjoy.