How to Make Marbled Chocolate Pumpkin Cheesecake
Christine O
This is the perfect dessert for any special occasion.

It's got creamy cheesecake coupled with the spice of pumpkin and topped with delectable marbled chocolate.

We're making Marbled Chocolate Pumpkin Cheesecake!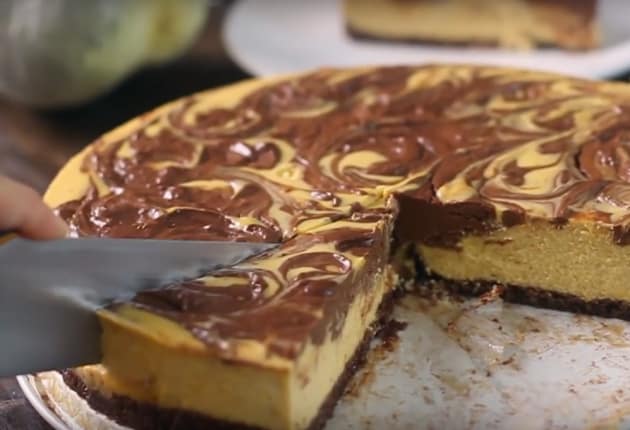 First, prepare the crust:

Preheat your oven to 350 F.

Crush 9 ounces of cocoa/ginger cookies using a food processor. Add 1 tablespoon cocoa powder and mix again until well combined. Transfer the crushed cookies to a medium bowl.

Melt 6 tablespoons butter and pour over the crushed cookies. Stir until evenly moistened. Press cookie mixture with the back of the spoon into the bottom of a 10-inch springform pan (with a removable base).

Bake for 13-15 minutes. Set aside to cool completely.

Then reduce the oven temperature to 300 F.

Now prepare the cream cheese filling:

In a bowl combine 1/4 cup flour, 1/2 cup plus 2 tablespoons sugar, 1 teaspoon ground cinnamon, 1/2 teaspoon ground ginger, 1/4 teaspoon ground nutmeg and 1/4 teaspoon ground cloves.

In a large bowl beat three 8 ounce packages cream cheese with 1 cup sour cream until well combined.

Gradually add the flour mixture and mix until creamy and smooth. Add 1 teaspoon vanilla extract and 1 and 1/2 cups pumpkin puree and mix again until well combined.

Add 4 eggs one at a time until each egg is incorporated. Reserve about 1 cup of the cream cheese mixture in a separate bowl.

Melt 4 ounces dark chocolate over a double boiler until smooth. Pour the chocolate into the reserved cheese and pumpkin mixture and fold gently to combine evenly.

Pour the cream cheese mixture over the prepared crust. Add spoons of chocolate mixture from place to place on top and gently swirl with a knife to get the marbled effect.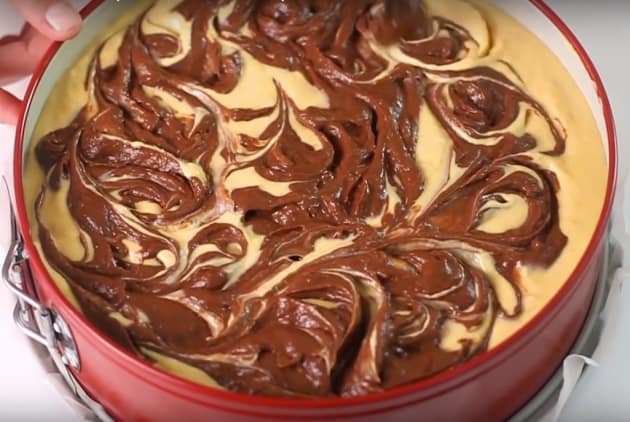 Check out the video below for all the delicious details.

Bake for 45 minutes. Turn off the heat and leave it another hour in the oven.

Remove and run a sharp knife completely around the inside edge of the pan.

Let it cool completely at room temperature. Cover and refrigerate overnight.

Then serve, eat, and enjoy!