How to Make Loaded Cheese Stuffed Mashed Potato Balls
Christine O
Mashed potatoes. It's a great comfort food but it can also be a little boring.

So we've come up with a great way to make it more fun.

Let's make cheesy mashed potato balls!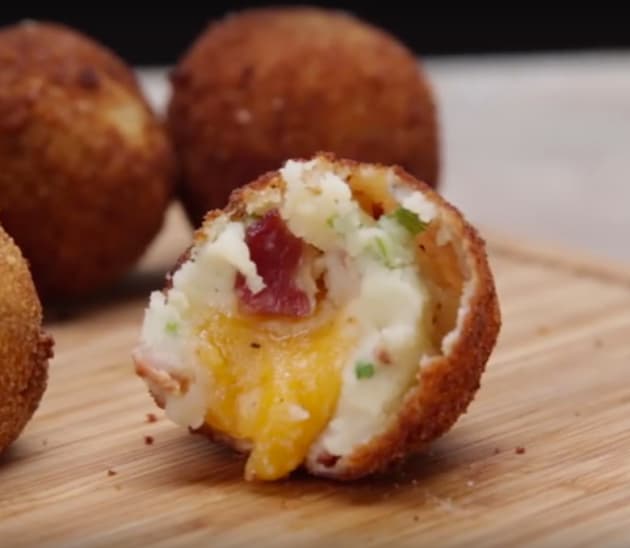 Place 4 cups of your favorite cold mashed potatoes into a large mixing bowl.

Add 1/2 cup sliced green onions, 3/4 cup cooked, chopped bacon, 1 teaspoon garlic powder, 1/2 teaspoon black pepper, and 1 egg. Mix all ingredients together well.

With lightly floured hands, pick up a tablespoon sized ball of potato mixture and flatten into a small pancake.

Cut a block of cheddar cheese into small cubes.

Place a cube of cheese in the center of the flattened potato mixture and wrap the potato around the cheese.

Repeat the process until all ingredients are used.

In three separate bowls, add 1 cup flour, 1 cup bread crumbs, and 1 whisked egg.

Coat the potato balls in flour, then egg, then bread crumbs.

Coat once more with egg and once more with bread crumbs. Set aside each one aside, and store in the fridge while you wait to fry.

In a medium pan heat oil over medium/high heat (to approximately 350˚F).

Fry the potato balls in batches until browned on all sides.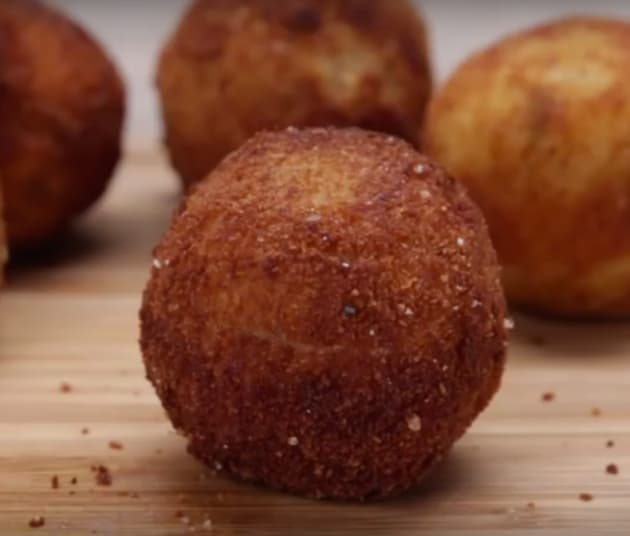 Transfer fried potato balls to paper towels to drain excess oil.

Check out all the delicious details in the video below.

Then sprinkle with salt.

Once all potatoes are fried, then transfer to a baking tray and bake in a preheated oven for 5 minutes at 400˚F.

Eat and enjoy!