Cheesecake. Who doesn't love it?

But eating a whole slice of cheesecake can leave you feeling guilty, so we've come up with the perfect compromise that adds a little extra kick.

Let's make lemon cheese bites.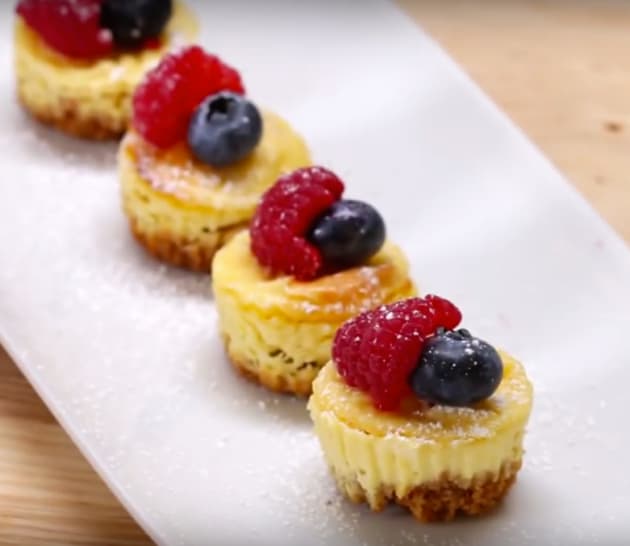 Preheat oven to 350°F.

Place mini baking cups in the mini cupcake tin.

In medium bowl combine 3/4 cup graham crackers crumbs, 1 tablespoon packed brown sugar, and 3 tablespoons butter, melted. Then stir together to coat.

Divide mixture and press into baking cups

Freeze crusts for 12-15 minutes or until hard.

Bring 12 ounces cream cheese to room temperature, then stir until smooth.

Add 1/2 cup powdered sugar and mix again.

Add 1/4 cup sour cream and mix again.

Add 1 egg at a time (3 eggs total) then add 1 teaspoon vanilla extract and 3 tablespoons lemon juice, and stir until smooth.

Fill chilled baking cups with cheesecake mixture.

Bake for 20 to 22 minutes or until centers are firm.

Check out the video below for all of the delicious details.

Remove and allow to cool for 15 minutes.

You can chill in refrigerator for at least 2 hours, or eat room temperature.

Feel free to garnish with raspberries and blueberries.

Then eat and enjoy!