How to Make Layered Ham & Cheese Potato Bake
Christine O
This dish is tasty, warm, and filling.

It's a creamy, delicious dinner for the whole family.

Let's make Layered Ham & Cheese Potato Bake!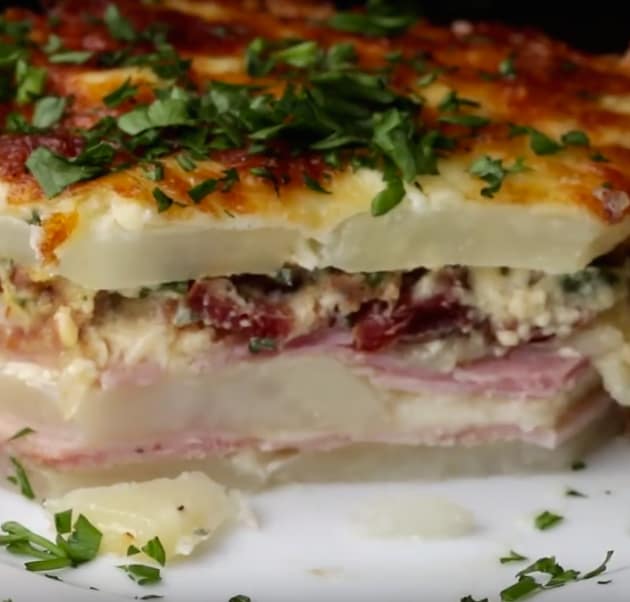 Preheat your oven to 350°F.

Peel 5 potatoes.

Slice the peeled potatoes into 1/4 inch slices.

Season the potatoes with 2 teaspoon salt and 1 teaspoon pepper, tossing them to make sure they're coated evenly.

Press a layer of potatoes evenly into the bottom of a greased, square baking pan.

Place 4 or 5 ham slices evenly on top of the potatoes, followed by 4 slices mozzarella cheese.

Follow with another layer of potatoes, then more ham and sliced cheese.

Sprinkle 5 slices cooked and crumbled bacon and 1/4 cup parsley evenly on top of the sliced cheese.

Place one final layer of potatoes on top.

Sprinkle 2 cups shredded cheese on top of the potatoes, then press it into an even layer.

In a small bowl, mix 1 cup heavy cream and 2 eggs.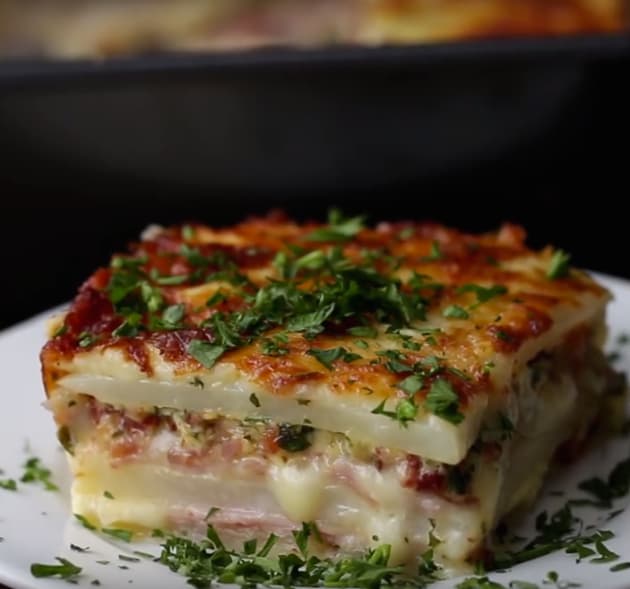 Check out the video below for all of the tasty tips and details.

Pour on top of the shredded cheese.

Bake for about 40 minutes, until the cheese is a deep golden brown.

Cool slightly, then slice, eat and enjoy!