When you need a creative appetizer that's both filling and fun, try this unique Italian style bite size treat.

Let's check out how to make Lasagna Poppers!
Coat a 10 inch frying pan with olive oil and add 1 tablespoon minced garlic and 1/2 cup chopped onion. Stir consistently until the onion and garlic are lightly browned.

Add 1 pound ground beef and mix with onion and garlic. Once beef has begun to brown and water has been released drain water and fat. Continue cooking until beef begins to brown and becomes tender and crispy.

Add 1 and 1/2 cups marinara sauce and mix together. Sprinkle salt and pepper to taste.

Remove heat, and add 8 ounces of shredded mozzarella. Stir until mozzarella binds to mixture.

While mixture cools, boil 4 cups of water in medium pot and add 8 to 10 lasagna noodles, lay them in across each other in a star formation so they do not bind together, stir regularly.

After 8 to 10 minutes drain pasta and allow to cool. Cut the noodles down to 3-4 inch slices and place mixture inside and roll.

Place poppers in freezer for 12 minutes.

Dip poppers in egg wash (using 4 eggs), 1 and 1/2 cup flour, 2 cups Panko breadcrumbs, then once more in the egg was and breadcrumbs.

Freeze for additional 12 minutes.

Heat 3-4 inches of canola oil at medium heat in a pot for 15 minutes. Test by splashing drops of water into oil, it should sizzle.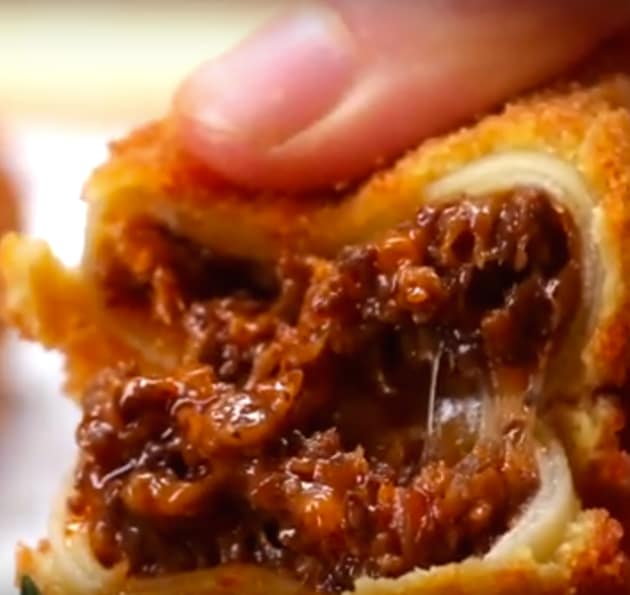 Place poppers in oil, 3 or 4 at a time, until they are golden brown on all sides, allow them to cool for 10-12 minutes.

Check out the video below for all of the details…

Then use some marinara sauce to dip and enjoy!
 
Tags:

Related Videos:

Uploaded by:

Uploaded: