Are you looking for a scrumptious seasonal snack?

Perhaps you'd like to give a tasty hostess gift when you head to your next party or holiday dinner?

Then we've got just the idea.

We're making delicious, homemade Pumpkin Bread!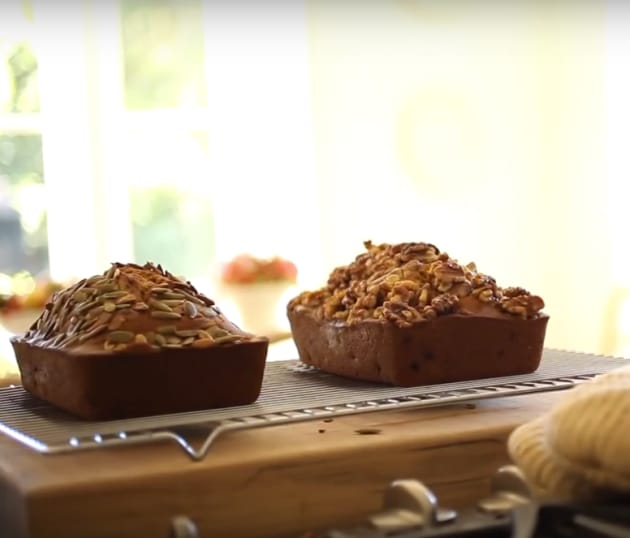 First, preheat your oven to 350F degrees.

Then grease two 9 x 5 inch loaf pans. That's right, two. This way you can give both loaves as gifts, or you can give one and keep one to enjoy at home.

Mix 3 and 1/2 cups flour, 1 and 1/2 cups sugar, 1 and 1/2 teaspoons salt, 2 teaspoons baking soda and 3 teaspoons pumpkin pie spice.

(If you don't have pumpkin pie spice you can substitute with 2 teaspoons cinnamon, 3/4 teaspoons nutmeg, 1/8 teaspoon cloves. and 1/8 teaspoon ground ginger.)

In a separate bowl, mix together 1 can (15 ounce) of pure pumpkin puree. (If you happen to have fresh pumpkin and a food processor, you can skip the can and make your own. It should come to about 1 and 3/4 cup.) Add in 5 eggs, 1 cup canola oil and 1/2 cup water.

Combine the dry ingredients into the wet, 1/3 at a time, being careful not to over mix! (Or you will have tough bread!)

Feel free to add raisins, walnuts, toasted pumpkin seeds or any other extra you'd like.

Pour batter into two loaf pans.
Check out the video below for all of the tasty tips and details.

You can top one with walnuts and top the other with Pepitas.

Bake until a toothpick comes out clean, about 40 to 50 mins.

Then wrap up to give as a gift or eat and enjoy yourself!