It's a staple no bbq, cookout, or picnic should be without. So you don't want to get it wrong.

Let's make this easy and delicious recipe for classic red potato salad.

Start with 5 red potatoes. For a larger party you can always double this recipe.

Boil your potatoes for approximately 15 minutes. While those are boiling, you can boil 5 eggs in a separate pot for 15 minutes.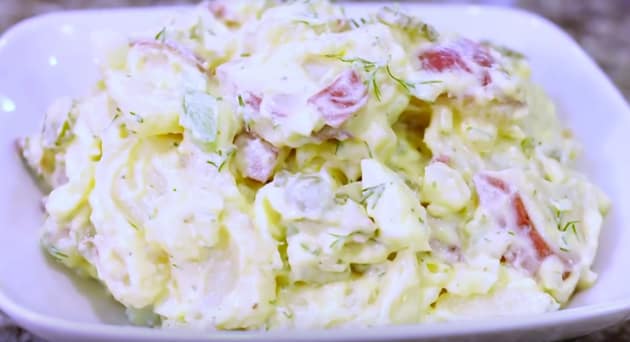 When the eggs are done, you can run them under cold water so that they're easier to handle.

Chop up 2 celery stalks and dice up half an onion.

Take one cup of small dill pickles and slice them up.

When your potatoes are boiled and slightly cooled, you can slice them up and add them to the celery, onions, and pickles.

Chop up the eggs and add them to the mix.

Now fold in 3/4 of a cup of mayonnaise, make sure the ingredients are well coated.

Add another 1/2 cup of mayonnaise if necessary to taste.

The mix in 3 tablespoons of dijon mustard.

Stir in 1/4 teaspoon of garlic powder and a 1/4 teaspoon of onion powder and a half teaspoon of fresh cracked pepper.

You can also add a dash or two of Lawrey's season salt.

Check out the video below for all of the delicious details.

Feel free to garnish with dill or other herbs of your choice.

Let your potato salad chill in the refrigerator over night.

Then eat and enjoy!