Some evenings the same old dinner just won't do.

If you're looking for something tasty and fun that will get the kids excited…

Then we may have the answer.

We're making Spaghetti Pie!
First you'll need to make your pie crust.

Preheat your oven to 350˚F.

Wrap 4 ounces of angel hair pasta in a clean dish towel and fold twice, breaking pasta into smaller 1 to 3 inch pieces.

Cook until al dente (about 3 minutes) and drain well.

In medium-sized bowl, mix warm cooked pasta with 2 cloves minced garlic, 2 tablespoons butter, 1 cup grated parmesan cheese, 1 beaten egg, and 2 tablespoons bread crumbs.

Stir until well incorporated and the butter and cheese have completely melted.

Press pasta mixture into a deep 10-inch pie plate or casserole dish.

Bake 15 to 20 minutes, until crust is set and edges have started to brown

Now it's time to make the filling…

Heat 2 tablespoons oil over medium heat in a large skillet.

Add 1 small diced onion and cook until softened, about 3 minutes.

Add in 8 ounces ground beef and cook until lightly browned.

Using a spoon, drain off any excess fat that accumulates in the pan. Stir in 1 (15 ounce) can of tomato sauce, 3 tablespoons tomato paste, and 1 teaspoon sugar.

Simmer until slightly thickened, about 5 minutes. Remove from heat and mix in1 tablespoon minced basil. Season with salt and pepper.

In a small bowl, mix together 1 cup ricotta, 1 egg, and 1 teaspoon dried oregano.

Spread ricotta mixture over the cooked pasta crust. Spread the meat sauce over the top of the ricotta mixture then cover with 1 and 1/2 cup shredded  mozzarella.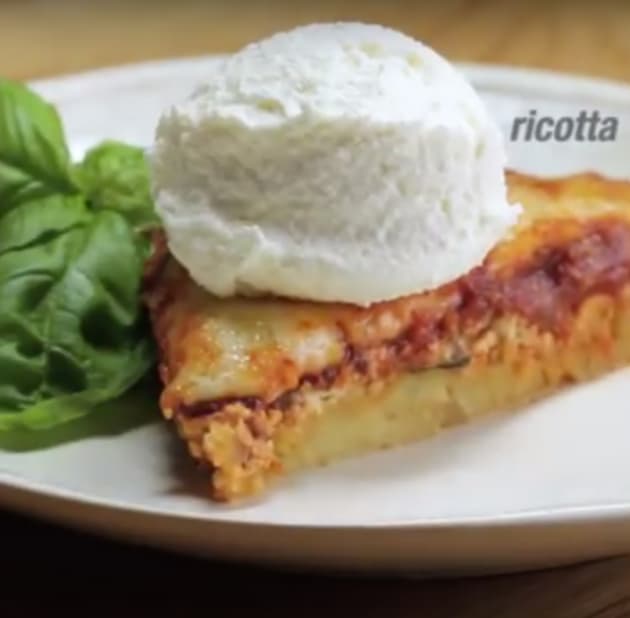 Check out the video below for all of the delicious details.

Bake at 350˚F for 25 minutes or until golden brown on top.

Let cool for 15 to 20 minutes before serving.

Then eat and enjoy!