Lemon bars are a wonderful treat.

So full of flavor that it's easy to eat more than one.

But sometimes you want something a little more stylish than a bar.

That's why we're making this easy, elegant Lemon Bar Pie!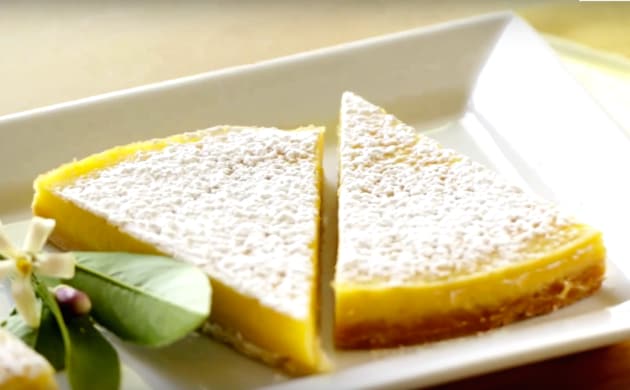 Preheat your oven to 325F.

Spray a 9" cheesecake pan with baking spray.

Combine 1/4 cup butter and 3 tablespoons powder sugar in an electric mixer. Then add 1 teaspoon vanilla extract and a pinch of salt.

Beat until combined, and then add 3/4 cups flour mixing until dough balls form.

Flatten into a disk and roll out to 1/4 inch thick. Doesn't need to be perfect since you will just be pressing this into the tin and it's a crumbly dough. Really doing this just for uniform thinness.

Fit dough into pan pressing down to create a tight fit and making sure the dough is uniformly level. DO NOT PRICK DOUGH.

Place tin in oven for 20 minutes until baked and golden brown.

Meanwhile, in a large bowl combine 6 eggs, 3/4 cup sugar, 2 teaspoons lemon zest, 2/3 cups juice and 1/4 teaspoon salt.

Whisk until combined. Then add 1/4 cup flour, whisk until smooth.

Pour filling on top of shortbread and bake for 20 to 22 minutes until filling is set.

Allow to cool and refrigerate until ready to serve.

Before releasing slide a sharp knife around the edge of the tin to make sure pie will release easily. Then release pan.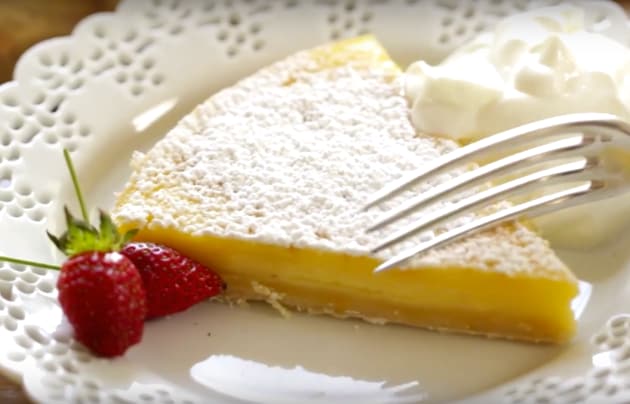 Check out the video below for all of the delicious details.

Dust with powdered sugar on top and cut into slices.

Serve with homemade whipped cream and strawberries.

Then eat and enjoy!