This is a recipe the kids are just going to love.

Why?

Because it brings together two of their favorite foods:

French fries and cookies!

That's right! We're making Deep Fried Cookie Fries!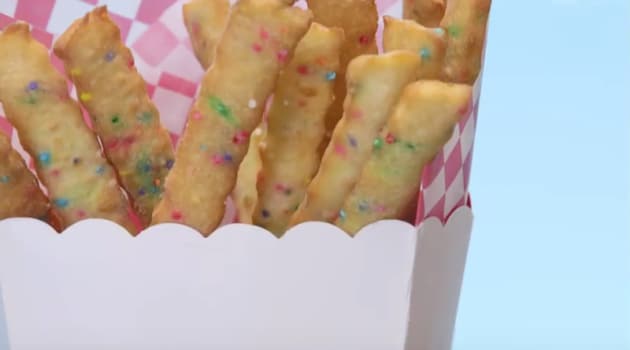 Preheat your oven to 350ºF and line a baking sheet with parchment paper.

In a bowl mix together 1 and 3/4 cups flour, 2 tablespoons semolina flour, and 1 teaspoon salt until incorporated.

Use a fork to cut 2 tablespoons softened butter into the mixture, like you would a shortbread cookie until it's mixed in.

In a second bowl whisk together 2 eggs and 1 cups powdered sugar until it gets light and fluffy.

Add 1 teaspoon vanilla extract and continue mixing until incorporated.

Slowly mix in the flour mixture until a sticky dough forms. Add 2 tablespoons sprinkles and continue mixing.

Roll the dough out and use a crinkle cutter to cut french fries out of the dough.

Place cookies on the baking sheet and bake for 5 minutes. Remove from the oven and let sit for 3 minutes to cool slightly.

Meanwhile heat oil in a heavy bottomed stock pot to 350ºF.

Fry cookies until the outside is just turning golden brown. Remove from the oil and let drain on a paper towel lined plate.

Check out the video below for all of the delicious details.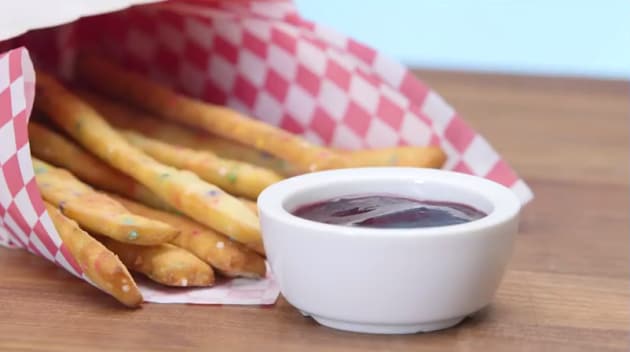 To make the ketchup: add 6 ounces raspberries and 1 tablespoon water into a pot over medium heat.

Stir the raspberries until the boil and soften. Add 1/4 cup raspberry jam and continue mixing until warmed through and incorporated.

Strain the mixture through a sieve to remove the seeds.

Then serve, eat and enjoy!