Are you searching for the perfect vegetarian burrito?

Well, we think we've found it.

With a combination of sweet and smoky, this meal doesn't skimp on flavor.

We're making Chipotle Sweet Potato Burritos!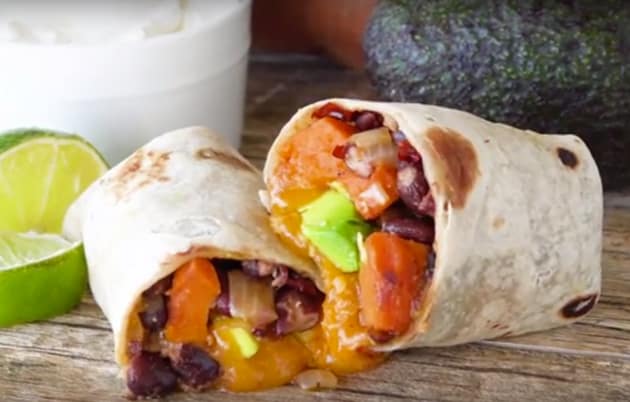 First, preheat oven to 425 degrees and lightly grease a baking sheet.

Then peel and cube 2 medium-sized sweet potatoes.

Place cubed sweet potatoes in a resealable plastic bag. Dust with 1 teaspoon cumin, and 1 teaspoon chili powder. Pour in 1 tablespoon olive oil and seal the bag.

Give the bag some good shaking so that all of the sweet potato cubes get coated with spices.

Spread sweet potatoes out on the prepared baking sheet and cook in the preheated oven for about 30 minutes, until sweet potatoes are soft.

Keep the oven on.

Meanwhile, in a skillet over medium-high heat, sauté 1 diced onion in 1 tablespoon olive oil for about 5 minutes, until soft.

Add in 2 cloves minced garlic, 2 minced chipotle peppers in adobo sauce, and 1 teaspoon cumin and sauté for about another minute to release the flavors.

Remove from heat and stir in the black beans and set aside.

For the next step you'll need 1 can (approximately 2 cups) black beans, drained and rinsed.

Now , assemble your burritos by first putting on a scoop of sweet potatoes down the center, then a nice helping of the beans, some avocado, then a fistful of mozzarella cheese. Fold burrito style.

Place the assembled burritos on another baking sheet.

Check out the video below for all the tasty details.

Bake in the preheated oven for about 10 to 15 minutes, until cheese is melted.

Serve hot with sour cream or guacamole.

Then eat and enjoy!