How to Make Beef Cutlet-Stuffed Garlic Bread
Christine O
Garlic bread is wonderful all on its own so how can we possibly make it better?

We've added beef and cheese to make a delicious dish that can't be beat.

Let's Make Beef Cutlet-Stuffed Garlic Bread!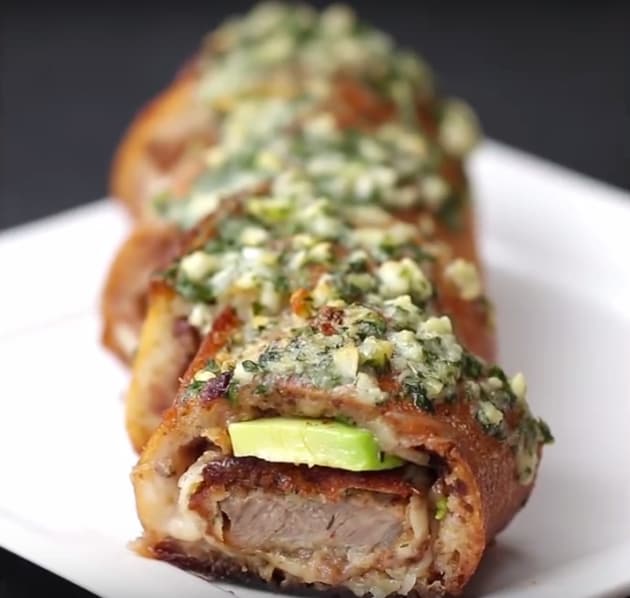 Preheat your oven to 350°F.

Take 1/4 pound round of beef, flattened.

Sprinkle the 1 teaspoon salt and 1/2 teaspoon pepper evenly over both sides of the beef.

Cut the beef into 1-inch strips.

Dredge the beef in 2 eggs, then roll it in 1 cup bread crumbs, pressing as many bread crumbs into the beef as possible.

Repeat with the remaining strips of beef.

Heat oil in a pan over medium-high heat.

Pan fry the breaded beef strips until golden brown on both sides. Remove and drain.

Cut 1 baguette into 4-inch long pieces.

Hollow out the insides of each baguette piece.

Spread 1/2 cup beans evenly inside the baguette pieces.

Place one mozzarella slice on top of the other with a 1-inch overlap.

Put the breaded beef strip in the middle, then top with a slice of avocado.

Wrap the cheese tightly around the beef and avocado, then push it inside the hollowed out baguette piece.

Slice the stuffed baguette piece into 1-inch slices.

Place the baguette slices side by side on a baking sheet lined with foil.

Mix the 6 tablespoons butter,melted with 3 cloves chopped garlic, 2 tablespoons chopped parsley, and 3 tablespoons grated parmesan.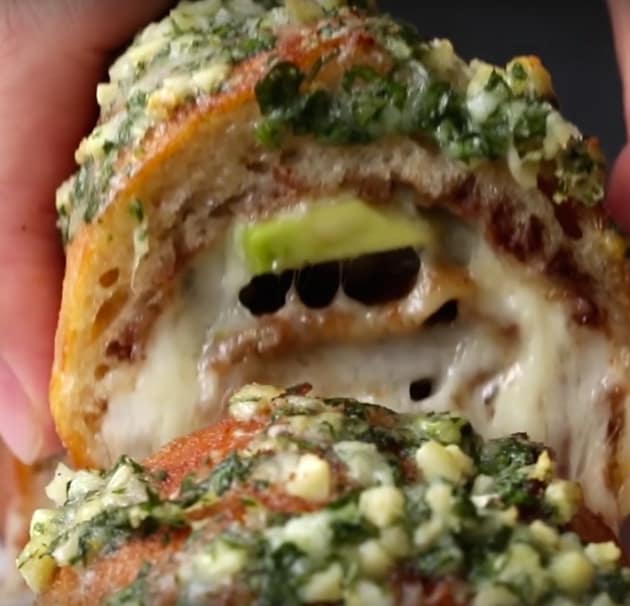 Check out the video below for all of the delicious details.

Brush the garlic butter mixture evenly on top of the baguette slices.

Wrap the foil around the bread, then bake for 20 minutes, until cheese is melted and the garlic on top is golden brown.

Then serve, eat and enjoy!