How to Make Baked Ziti with Meatballs and Mushrooms
Christine O
It's saucy and cheesy and oh so good!

This is an Italian pasta dinner that the entire family is sure to love.

Let's make Baked Ziti with Meatballs and Mushrooms!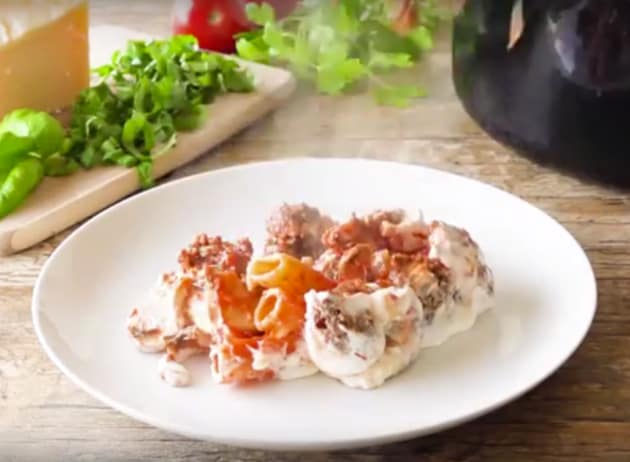 Preheat oven to 400 degrees. Lightly grease a baking sheet.

In a large mixing bowl , make your meatballs by combining 1 pound ground beef, 1/2 cup bread crumbs, 2 teaspoons dried basil, 2 teaspoons dried oregano, 1 teaspoon salt, 1 teaspoon red pepper flakes, 2 tablespoons Worcestershire sauce, and  1/4 cup milk.

Knead together until well mixed.

Form into mini meatballs using about 1 tablespoon of meat for each ball. Place meatballs on prepared baking sheet and bake at 400 degrees for about 20 minutes.

While your meatballs are baking, pour 2 tablspoons olive oil into a large dutch oven, or oven safe pot, over medium-high heat.

Pour in 1 diced onion and 1 pound sliced mushrooms. Saute for 5 to 7 minutes until onions are soft and translucent and mushrooms are cooked.

Pour in your spaghetti sauce, reduce heat, and let simmer until pasta and meatballs are ready.

Cook 1 pound ziti pasta in boiling water, according to package directions.

Then prepare the cheese topping in a small mixing bowl by combining 8 ounces softened cream cheese and 8 ounces ricotta. Mix together until smooth.

Once the pasta is done, pour it into the large pot with the sauce.

When the meatballs are cooked, gently stir them in being careful NOT to break them up.

Spread cheese mixture on top, and sprinkle parmesan cheese over.

Reduce oven heat to 350 degrees and place the entire pot into the oven.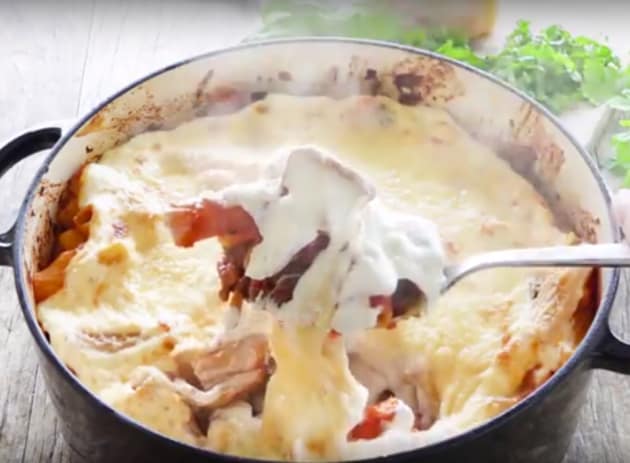 Check out the video below for all of the delicious details.

Bake for 20 minutes until the cheese is melted and bubbly…

Special Note: If you don't have an oven safe pot, combine the pasta, sauce, and meatballs in a lightly greased 9x13 pan. Then, spread the cheese mixture on top and bake at 350 degrees for 20 minutes.

Then serve, eat, and enjoy!