When a morning deserves a special breakfast, this will be your go-to recipe.

These pancakes are fluffy and filled with delicious, soft chunks of apples.

And then there's the delectable Streusel topping!

Let's make Apple Crisp Pancakes.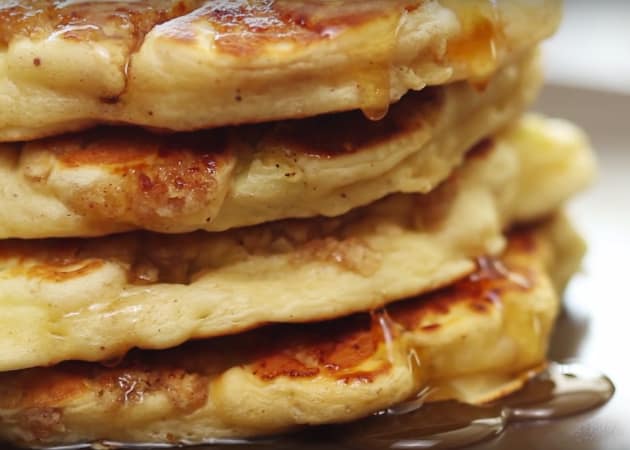 First you'll want to prepare the Streusel:

In a medium bowl, mix 1/4 cup brown sugar, 1/4 cup flour, 1/4 cup oats and 1/2 teaspoon cinnamon. Cut in 3 tablespoons of butter using a pastry blender or fork until mixture is crumbly. Then set aside.

Now prepare the pancake batter:

In another bowl, mix 1 and 1/4 cups flour with 1 tablespoon sugar, 1 and 1/2 teaspoons baking powder, 1/2 teaspoon salt, 1/2 teaspoon cinnamon and 1/4 teaspoon nutmeg.

Add 1 egg, 1 cup milk and 2 tablespoons oil, then mix until smooth.

Peel and dice 1 apple and combine with pancake batter.

Heat a nonstick pan over medium high heat.

For each pancake, pour 1/4 cupful batter onto hot pan. Sprinkle each pancake evenly with 2 tablespoons of Streusel mixture. You can press the Streusel slightly to stick better to the pancake.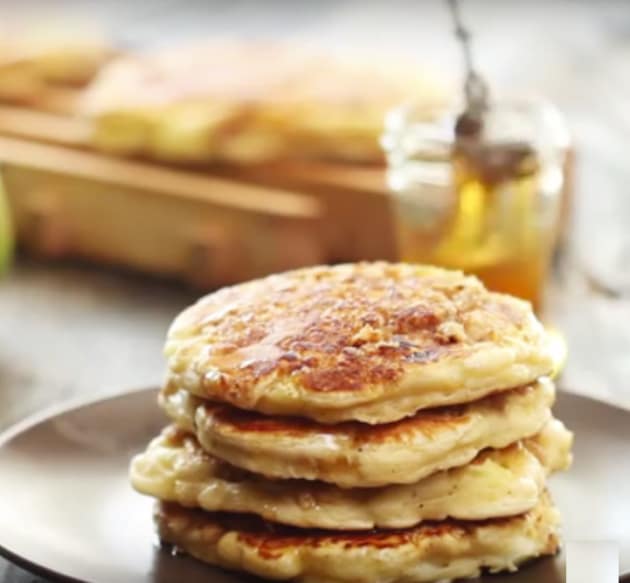 Below, check out the video for more tasty tips and details.

Cook for about 2 to 3 minutes or until bubbly on top and dry around edges. Turn and cook on the other side until light golden brown around edges about 2 or 3 minutes more.

Drizzle with maple syrup, honey, or top with whipped cream.

Then serve, eat, and enjoy!