Everyone makes the same old desserts for the holidays.

Pumpkin pie. Apple pie. They're great, but sometimes you want something different.

We've got an easy, elegant alternative.

Let's make this perfect Pear Tart!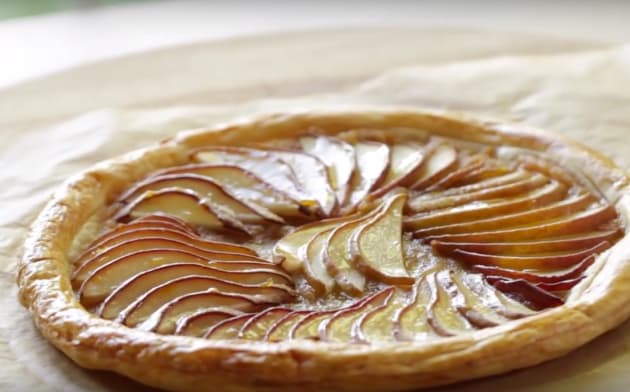 Preheat your oven to 400F.

Roll out 1 puff pastry sheet on a rimless cookie sheet lined with pre-cut brown parchment paper. Place a plate that has been floured on top of the pastry that is at least 1 to 2 inches smaller than the pastry round.

Score around the perimeter of the plate to create at least a 1 to 2 inch "crust".

Mix 1/2 cup unsweetened apple sauce and 1/4 teaspoon cinnamon. Spoon this mixture across the center circle creating a base for your tart. Do not go into the crust area.

Slice off all sides of 2 ripe pears, avoiding the core, in 1 slice motions. You will have 2 large sides (the hips of the pear) and 2 smaller sides, and you will be left with the rectangular core.

Put the hip cut pears flat side down and slice very thin, 1/8 inch thick slices. Keep the sliced order and arrange the pear slices exactly as they are creating an escargot pattern around the tart.

The reserve the smaller pear cuts to create a splayed pear fan for the center. Do this by slicing the pear 1/4 inch from the top of the pear, leaving the top intact so that you can create a fan-side cut. Place that in the center and fill in your overall design with any other of the pear slices.

Sprinkle 1 tablespoon sugar atop all the pear. Then beat 1 egg well in a small bowl and with a pastry brush only the crust very lightly with the egg wash, being careful not to get the egg in to the score cut or your pastry won't puff up.

Bake for 30 to 35 mins until pastry are golden brown and puffed up.

Allow to cool slightly, and then brush the pears with the apple jelly for a nice shiny finish.

For whipped cream combine 2 cups heavy cream or heavy whipping cream, 2 tablespoons powdered sugar, and 1 teaspoon vanilla extract in a bowl and whisk vigorously for 10 to 15 minutes with a wire whisk until soft peaks form, or whip with an electric mixer.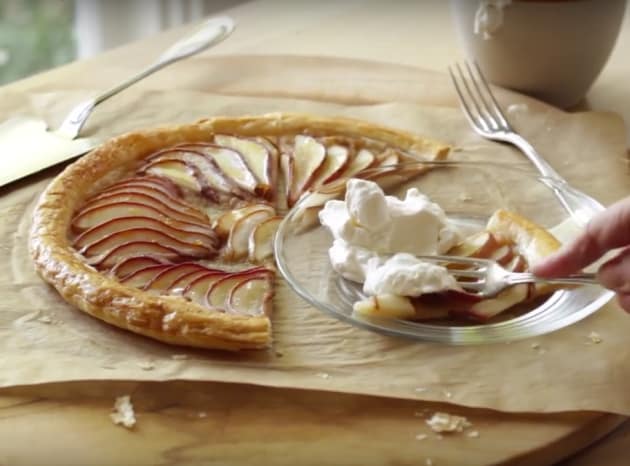 Check out the video below for all the tasty tips and details.

Transfer paper and tart in one motion to a round cutting board/cheese board.

Slice into wedges and serve with homemade whipped cream.

Then slice, eat and enjoy!