Want to make a fun dessert that your friends have never seen before?

Something bolder than the standard cupcake. More delectable than just a cookie.

We're going to make churros…and not just any churros.

Let's make Red Velvet Churros!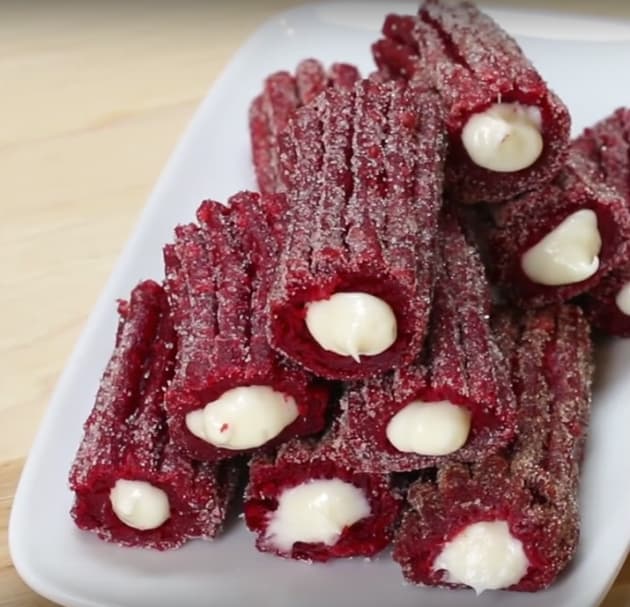 In a pot over medium-high heat, bring 2 cups water, 1/4 cup sugar, and 4 tablespoons butter to a boil.

Add in 1 cup flour and 1 cup red velvet cake mix. Stir until mixture has no streaks.

Remove from heat and add 2 eggs, stirring until the dough becomes a ball. Then transfer dough to a piping bag with a size nine star tip.

Pipe three to four inches strips of the dough on a baking sheet and freeze for 30 minutes.

Heat canola oil in a pot over medium-high heat. Fry the red velvet churros for about three to four minutes, then remove and drain on paper towels.

Using a straw, poke a hole through the centers of the churros to hollow out a cavity for the filling.

On a plate, combine 1 teaspoon ground cinnamon and 1/2 cup sugar and mix until it is all one color.

Roll the hollowed out churros in the cinnamon sugar.

In a medium bowl, combine 8 ounces cream cheese, 1/2 cup confectioner's sugar and 1 teaspoon vanilla. Stir until smooth.

Transfer the filling into a piping bag with a round tip and pipe the filling into the churros.

Check out the video below for all the tasty details…

And enjoy!