How to Make 30 Minute Stove Top Skillet Lasagna
Christine O
We've found a recipe that has everything you love about lasagna, without the hours it takes to bake.

Not only is it easy, but it only takes 30 minutes to make.

And you won't have to heat up the kitchen by turning on the oven.

Let's make Stove Top Skillet Lasagna!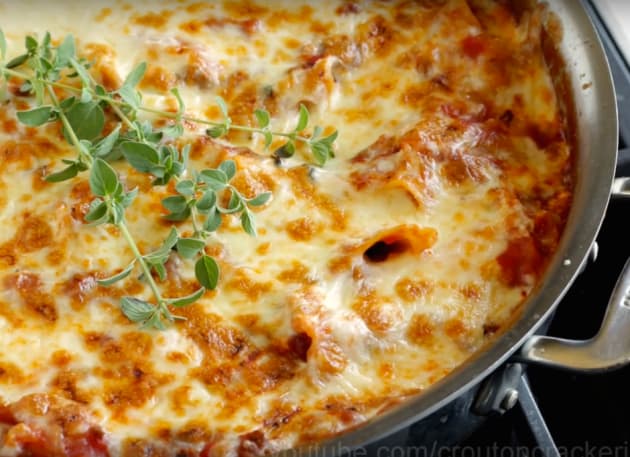 In a 12 inch skillet, saute 1/2 medium onion, chopped, over medium-high heat in olive until translucent.

Add 1/2 pound ground beef and 1/2 pound mild Italian sausage with casing removed.

Crumble and cook meat until browned well. Drain off fat.

Add in lasagna noodles that have been broken into pieces.

(If you are using the NON-oven ready noodles, the ones you must cook first before making a traditional lasagna, keep the same amount of noodles, add an additional 1/2 cup water and another 5-10 minutes on the cooking time.)

Pour 1 can (28 ounces) crushed tomatoes, 1 can (8 ounces) tomato sauce and 1/2 cup water. Bring to a simmer, reduce heat to low, cover and cook 10 minutes WITHOUT stirring!

After 10 minutes, carefully remove lid and stir. Add in 1/2 teaspoon salt, 1/2 teaspoon sugar and 1/2 teaspoon garlic powder.

Mix well and separate any noodles stuck together. Replace lid and cook an additional 10 minutes, stirring occasionally.

After the second 10 minutes is up, turn off heat, remove lid, stir well and again separate any stuck noodles.

Sprinkle 1 teaspoon oregano over top and dollop spoonfuls of the ricotta cheese over top. Replace lid and let rest for 5 minutes.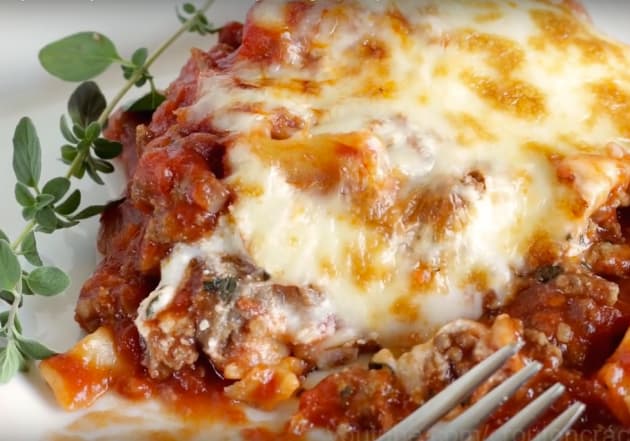 Check out the video for all of the delicious details.

When the ricotta is melted, sprinkle 6 ounces shredded mozzarella cheese on top and place under the broiler for 2 to 3 minutes just to melt and brown the cheese.

Let rest again for a few minutes and serve.

Serves 6.

Then eat and enjoy!