Here's a totally new take on veggie burger.

This time we give it a Mediterranean flare.

Let's make falafel burgers!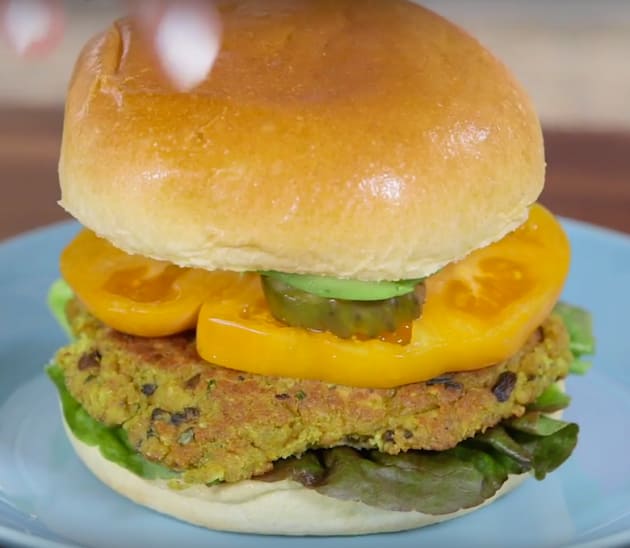 Start by heating 1 tablespoon vegetable oil in a large skillet over medium-high heat.

Add 2  chopped green onions and 3/4 cup chopped mushrooms. Fry until tender, stirring frequently, about 3 minutes.

In a food processor, combine one 15 ounce can of garbanzo beans (including liquid) and 3 cloves chopped garlic, and blend until smooth.

Transfer mixture to a bowl and add mushrooms and onions.

Mix in 1 tablespoon chopped cilantro, 1 tablespoon chopped parsley, 1 and a half tablespoons curry powder, and 1/2 teaspoon cumin.

Add in breadcrumbs and egg whites and mix until blended.

Form the mixture into 4 patties.

In a large skillet over medium heat, heat another tablespoon of oil and place the patties into the hot skillet. Fry for 5 minutes on each side until nicely browned.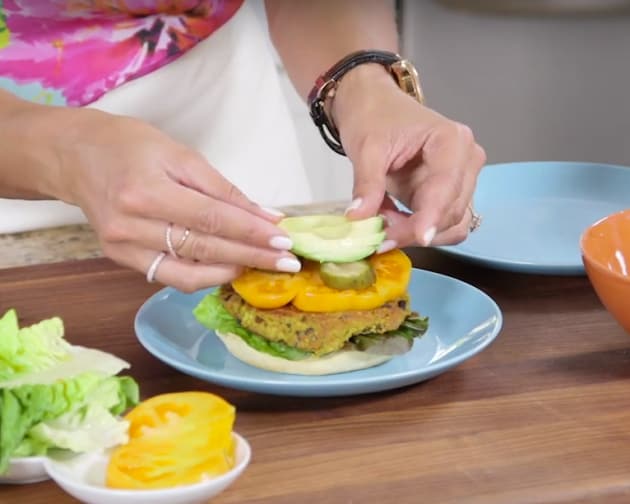 Check out the video below for all the delicious details.

Then serve on toasted buns with hummus, lettuce, tomatoes, pickles, and sliced avocado.

Enjoy!