This sports bar and party worthy appetizer looks complicated but it's really not.

When you need that extra pop to add to your menu, you'll need these.

Let's make jalapeño poppers!

Set 8 ounces cream cheese out from fridge for at least 1/2 hour to allow time to soften.

Cut stems from 6 large jalapeño peppers, but not enough to open the back of the pepper entirely, this shallow cut will leave enough of the top of the pepper in place to form a "wall" that will hold the cheese as it bakes.
With a spoon, scoop out the seeds and ribs. Your jalapeño should look like a little rowboat.

In a bowl, throughly mix cream cheese, 1 cup shredded cheese, 1/4 cup chopped cilantro, 1 teaspoon smoked paprika, 1 teaspoon onion powder, and salt and pepper to taste.

Spoon cheese mixture into pepper boats. Fill each pepper entirely, but just to the top of each pepper. Too much cheese will only make a mess and disrupt the optimal cheese to pepper ratio.

In a skillet, on medium heat, melt 2 to 3 tablespoons butter. Add 4 to 5 finely chopped garlic cloves and stir 1 minute.

Turn off heat and add 1 cup Panko bread crumbs. Stir until butter is absorbed and garlic is mixed well with bread crumbs.

Press peppers cheese side down into the crumb mixture, then turn over and mound extra crumb topping on the peppers.

Place peppers on a baking sheet and cook 20 to 25 minutes at 400 degrees F.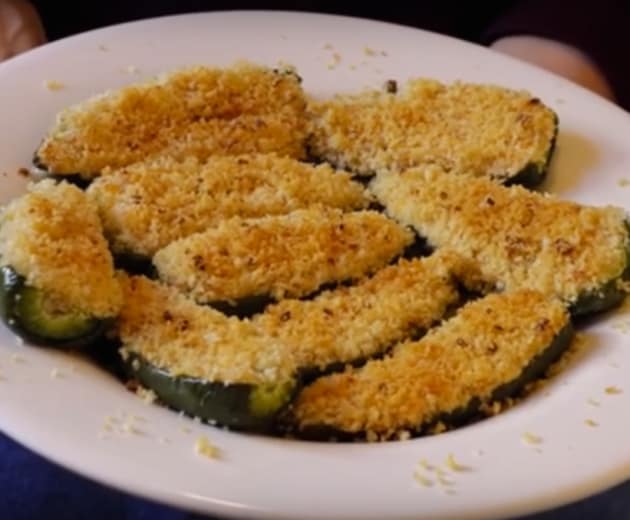 When the crumb topping is baked golden, remove and allow peppers to rest 5 minutes.

Check out the video below for tips and delicious details.

Then eat and enjoy!