This is one of the most delicious bundt cakes we've ever tasted, with the perfect combination of lemon and berries.

What makes it even better is that it's easy to prepare.

We're making Blueberry Lemon Bundt Cake!
Preheat your oven to 350 F. Butter and dust with flour a 10 inch bundt pan.

In a bowl, whisk 3 cups flour with 2 teaspoons baking powder and 1 teaspoon salt, then set aside until ready to use.

In a large bowl, mix 2 sticks butter with 1 and 1/2 cups sugar until light and fluffy.

Add 3 eggs, one at a time, beating until incorporated.

Add 1 teaspoon vanilla extract, 2 tablespoons lemon zest and 2 tablespoons lemon juice and mix until well combined. Reduce speed to low alternate adding flour mixture and buttermilk until everything is incorporated.

Only now, take 2 cups frozen blueberries out of the freezer, Stir with 1 tablespoon flour. Keep about 1/4 cup of the blueberries for topping and add the rest over the batter.

Gently fold the blueberries into the batter, not too much as you don't want your batter to become blue. Only few folds will be enough.

Pour the batter into the prepared pan and add the reserved 1/4 cup blueberries on top.

Bake for about 70 minutes or until a toothpick inserted into the center of the cake comes out clean.

Remove from the oven and rest in the pan for about 15 to 20 minutes before inverting it onto a rack.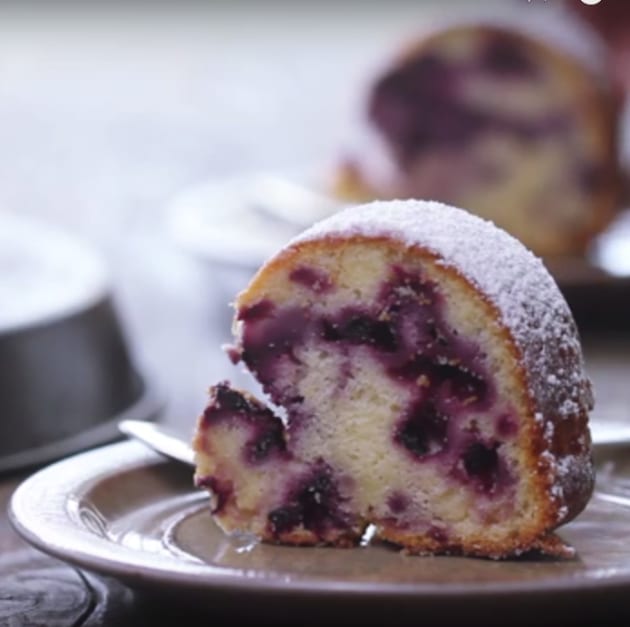 Check out the video for all the delicious details.

Let cool at room temperature.

Before serving dust the blueberry bundt with powdered sugar or prepare the lemon icing by mixing the powdered sugar with lemon juice.

Then serve, eat and enjoy!