Presto Orville Redenbacher Hot Air Popcorn Popper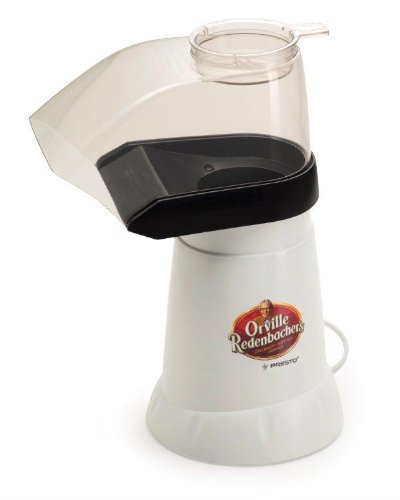 List Price:

$39.99

Your Price:

$20.00

You Save:

$19.99 (50%)
Buy Now

Warranty:

1 Year Limited
Customer Reviews:
Popcorn is America's favorite snack. Make it easily at home with the Orville Redenbacher Hot Air Popcorn Popper.
Product Description
The Presto Orville Redenbacher's Hot Air Popper pops up popcorn quickly and easily using hot air rather than oil, for a fluffy, crunchy treat that can feed a crowd on movie night.
Its makes enough popcorn for a crowd, popping up to 18 cups at one time in only 2 1/2 minutes. Plus, your popcorn will be healthier - thanks to the air-pop technology, no oil is needed to pop up fluffy white kernels.
For those who want butter on their popcorn, a butter melter located on top of the popper melts the butter while the popcorn pops. The melter also doubles as a measuring cup to get the right amount of kernels. The plastic chute removes easily from the base for hand cleaning.
With no burned kernels and few unpopped, you'll get the biggest "pop" for your buck with this economical popper.
Tag:

SKU:

000313048

MPN:

04821

Model:

268534

Product ID:

04821

GTIN-13 / EAN Code:

0075741048215

Weight:

3.2 lb

Depth:

11.6 in

Width:

9.9 in

Height:

7.0 in

Color:

White

Brand:

Unknown

Manufacturer:

Presto