OXO Good Grips Bench Knife / Pastry Scraper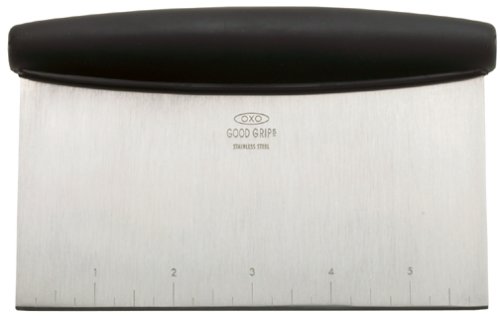 List Price:

$9.99

Your Price:

$9.95

You Save:

$0.04 (0%)
Buy Now

Warranty:

Satisfaction Guaranteed
Customer Reviews:
Having the OXO Good Grips Multi-Purpose Scraper & Chopper in your kitchen tool box is a must. It's a multi-tasker worthy of the name.
Product Description
The OXO Good Grips Multipurpose Pastry Scraper is one kitchen tool you won't know how you lived without. Divide dough, scrape up stuck pastry bits, or measure for perfect cuts with this essential gadget.
Made with durable stainless steel and featuring a nonslip rubber handle, it feels comfortable in your hand while being easy to use. The blade is sharp enough to cut through your dough effortlessly.
Inch increments are featured along the bottom of the scraper to help measure dough for perfectly sized rolls or tarts. The straight edge is also useful for forming square and rectangular pastry.
Even if you don't work with dough on a regular basis, you'll find the OXO Good Grips Multipurpose Pastry Scraper is also useful to help clean up countertops, move chopped veggies from cutting board to skillet, or even slice through the vegetables themselves. Dishwasher safe.
SKU:

000438752

MPN:

73281

Model:

73281

Product ID:

73281

GTIN-13 / EAN Code:

0719812732817

Weight:

1.15 lb

Depth:

8.7 in

Width:

6.8 in

Height:

2.8 in

Color:

Multi

Brand:

OXO
Show Comments