Krispy Kreme Brings Back Heart Shaped Doughnuts for Valentine's Day
Ryan Nadolny | Ryan Eats Everything

The festive doughnuts are now available at participating locations nationwide.
The 14th of February is almost here, and you know what that means! Overpriced flowers, kitschy stuffed bears and chocolate. So much chocolate.
Ok, that last one isn't so bad, right?! I'm always down for chocolate.
After 15 years of working on Valentine's Day in a fine dining Italian restaurant, I'm over it. It's a night full of amateurs and new budding relationships.
That said, I can get down with Krispy Kreme's heart shaped doughnuts, which they've just brought back for Valentine's Day!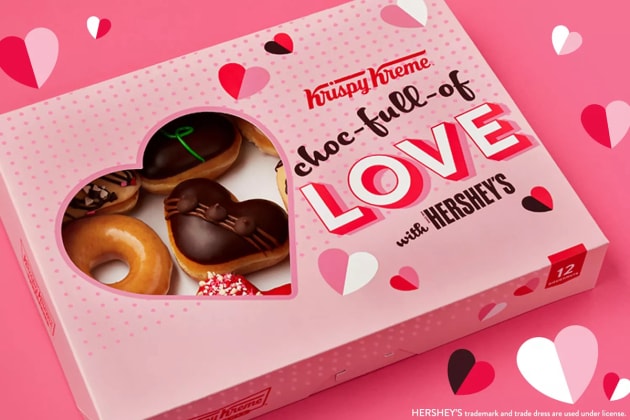 Krispy Kreme Drops Heart Doughnuts for Valentine's Day
The famed doughnut company is no stranger to a good holiday promo, often featuring themed donuts like spooky Halloween doughnuts, festive Santa doughnuts, or even an entire box of Thanksgiving doughnuts that tasted like pie.
Seasoned married folk know that the flowers and candy will be half price the day after Valentine's Day and the restaurants will be much less crowded.
In addition to a nice quiet Valentine's Day dinner at home, why not snag a box of Krispy Kreme doughnuts for your romantic evening? 
This year, Krispy Kreme has teamed up with Hershey's to feature four new doughtnut flavors for Valentine's Day 2023.
Each limited edition Valentine's Day box will contain two of each flavor, plus four of the Krispy Kreme classic glazed doughnuts we all know and love.
✨Cheers to love! ✨❤️ Whether it's with friends, family, or a significant other, share all the love & @Hersheys goodness with the yummiest heart-shaped 🍩s! #ValentinesDay #KrispyKreme pic.twitter.com/5NL6SSctux

— Krispy Kreme (@krispykreme) February 3, 2023
What Are the New Krispy Kreme Flavors for Valentine's Day?
Switching it up as they do every year, Krispy Kreme has introduced four new flavors:
Hershey's Pick You - Dipped in chocolate icing and topped with a decorative buttercream rose.
Hershey's Double Chocolate Kiss - Filled and dipped with milk chocolate and topped with mini milk chocolate kisses.
Hershey's Strawberry Dream - Decorated with red icing and white chocolate chips and topped with sprinkles.
Hershey's Chocolate Chip Caramel Kreme - Filled with the brand's signature cream and topped with caramel icing, drizzles of chocolate, semi-sweet chips, and sprinkles.
The best part is you don't have to wait until the 14th to show your sweetie some love! As of January 30th, the doughnuts are available nationwide.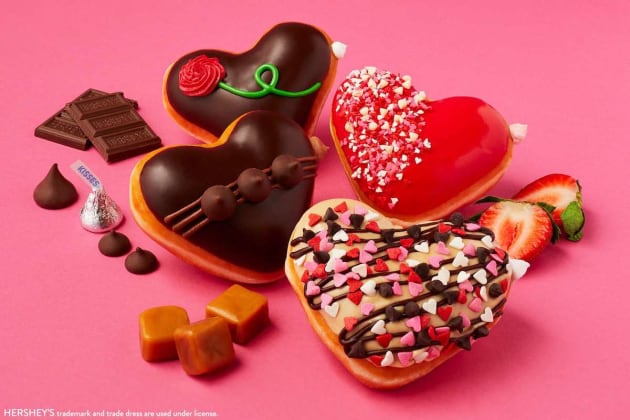 We love how Krispy Kreme keeps things fun and fresh all year long. I personally love how they give out free doughnuts on Election Day for voting.
This Valetine's Day, why not skip the expensive dinner out and opt for chocolate-stuffed heart shaped doughnuts instead?
Planning a dinner party and need some inspiration?
How about looking for a new slow cooker dinner idea?
We've got you covered in our ever-growing Facebook group! If you're not a member yet, why not?!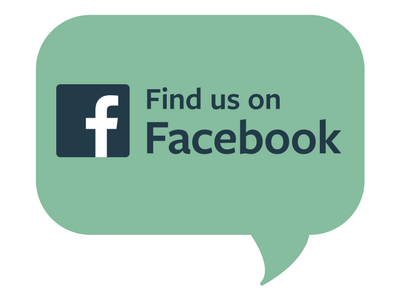 We're chatting cooking techniques, dessert ideas, and everything in between. If you're already a member, invite your friends to join us too!

Ryan is a food and writer from Toledo, Ohio where he's had a love affair with food since 1984. When he's not cooking or writing, he's planning the next he wants to eat.

Tags: Valentine's Day, Food News, Donuts